Tsai unveils advertisement for presidential campaign
Democratic Progressive Party (DPP) presidential hopeful Tsai Ing-wen (蔡英文) unveiled her first campaign ad yesterday in an effort to increase her profile before the party's presidential primaries next month.
The TV ad, titled "Reason … Giving Democracy More Power," makes no mention of her opponents, but depicts her leadership of the DPP in the past three years, highlighting the message "winning back the people's confidence."
"True reflection is bravely facing up to the people. One step at a time, we have rediscovered Taiwan's most basic values," Tsai says in the one minute spot, making reference to the DPP's resurgence since its poor showing in the legislative and presidential elections in 2008.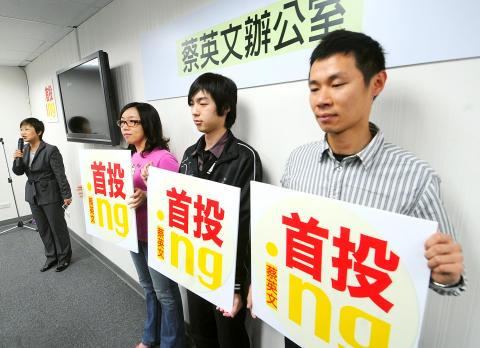 Taipei City Councilor Hsu Chia-ching, left, campaign spokeswoman for Democratic Progressive Party presidential candidate Tsai Ing-wen, joins three young supporters who will be eligible to vote in the presidential election for the first time to unveil Tsai's first campaign commercial at a press conference in Taipei yesterday.
Photo: Wang Min-wei, Taipei Times
"A strong Taiwan will be able to stand on stable roots and welcome the world. Taiwan's future deserves a better hope," she says before a voiceover describes her as "reasonable" and "tough."
The first TV ad to be released for the presidential campaign, the spot shows that Tsai's campaign is already in full swing as she prepares for a potential showdown with former premier Su Tseng-chang (蘇貞昌).
Hsu Chia-chin (徐佳青), a spokesman for Tsai, refused to disclose the cost of the advertisement, which ran across cable news channels yesterday, but said more TV spots would likely follow until the a presidential nominee is chosen by the DPP.
Underscoring one of Tsai's key messages as part of her campaign — "generational change" — Hsu said Tsai's campaign was preparing for at least a dozen university students to join the Tsai, who temporarily stepped down as party chairperson to focus on her campaign, as she officially registers for the primaries tomorrow.
Lee Hou-ching (李厚慶), a spokesperson for Su, said that while his campaign did not have a timetable for the release of TV ads, it would likely be "soon," as the former premier also aims to give himself a leg-up when the telephone primary polls are held.
Su is also expected to officially register and pay the NT$5 million (US$169,000) registration fee tomorrow at 10am, an hour before Tsai is expected to do so. Another spokesperson, Andrew Wang (王閔生), picked up the registration forms yesterday morning.
The former premier is expected to make a formal announcement this evening at Taipei City's Civil Service Development Institute.
The two candidates and former vice president Annette Lu (呂秀蓮), the other presidential hopeful, have been canvassing the country during the past month as the DPP moves to use telephone polls to decide on its nomination next month.
Comments will be moderated. Keep comments relevant to the article. Remarks containing abusive and obscene language, personal attacks of any kind or promotion will be removed and the user banned. Final decision will be at the discretion of the Taipei Times.