Nangang high-speed station to open by 2015, bureau says
The high-speed rail system will be extended to Taipei City's Nangang District (南港) by 2015 amid efforts to ease congestion at Taipei Railway Station, the Bureau of High Speed Rail announced yesterday.
The bureau said the Taiwan Railway Administration (TRA) had appropriated land needed to build an underground tunnel connecting downtown Taipei and Nangang to the high-speed rail line in October, adding that the tunnel was scheduled to become operational by January 2015.
Like Taipei Railway Station, three main railway systems — TRA, Taiwan High Speed Rail Corp (THSRC) and the Taipei MRT — will also converge at Nangang Station, the bureau said.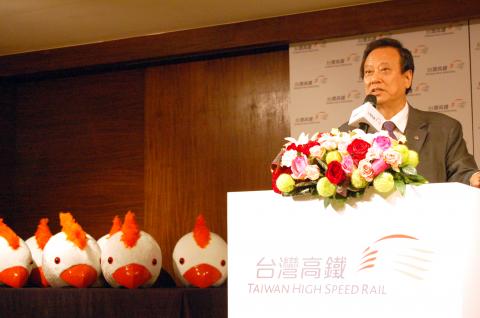 Taiwan High Speed Rail Corp chairman Ou Chin-der tells a press conference in Taipei yesterday that passengers on the high-speed rail will soon be able to make reservations using their smartphones.
Photo: Tseng Hung-ju, Taipei Times
The bureau said passengers from Keelung, Sijhih (汐止) in New Taipei City (新北市), Nangang and Neihu District (內湖) will be able to board the high-speed rail at Nangang Station, adding that this would greatly ease congestion at Taipei Railway Station.
Statistics from THSRC showed that an average of 60,000 high-speed rail passengers accessed the service through Taipei Railway Station daily last year.
That number rose to 62,000 in January.
Meanwhile, THSRC chairman Ou Chin-der (歐晉德) said -passengers on the high-speed rail could soon make reservations through their smartphones.
Under the system, passengers would receive a QR Code on their mobile phone after they -complete the transaction, Ou said. People will be able to enter the platforms by placing their phone close to the sensors at ticketing gates.
The company said the service would target passengers making seat reservations, adding that the number of reserved seats would be sent to the passengers' phones.
The company also said that it was in talks with EasyCard Corp about the possibility of allowing people to access the high-speed rail using their EasyCard.
"We will make an official announcement when all the details are finalized," Ou said.
Comments will be moderated. Keep comments relevant to the article. Remarks containing abusive and obscene language, personal attacks of any kind or promotion will be removed and the user banned. Final decision will be at the discretion of the Taipei Times.