Chinese philanthropist suggests rail link
DOUBLE MEANING: A DPP legislator said the suggestion of a train link was 'a shortcut for political unification' and likened it to the story of the Trojan Horse entering Troy
Chinese philanthropist Chen Guangbiao's (陳光標) "thanksgiving" visit to Taiwan sparked more controversy over the weekend after he proposed a cross-strait rail link that Beijing would pay for.
Calling China the "big brother" in the cross-strait relationship, Chen said Taiwan was like "family" and that Chinese industrialists would be more than happy to donate toward the project's construction costs.
"Our brothers and sisters [of Taiwan] should relax … we won't ask you to pay one dollar," he said to rousing applause during a dinner in Taipei City on Saturday, where he handed out hundreds of red envelopes filled with cash.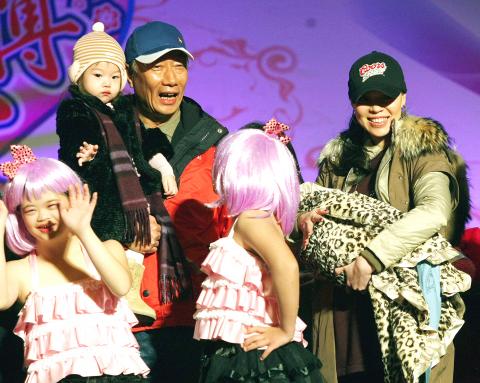 Hon Hai Group chairman Terry Gou and his wife, Dalia Tseng , hold their children during an event at the Taipei International Flora Expo yesterday.
Photo: CNA
Chen's comments, made in front of hundreds of guests, came despite an insistence that his visit would be low profile.
Chen arrived with 47 other Chinese industrialists on Wednesday to donate NT$500 million (US$17.244 million) to Taiwan's poor.
Democratic Progressive Party (DPP) politicians rallied against those remarks yesterday, accusing the Chinese tycoon, ranked 223rd on Forbes' China rich list, of harboring political motives. His ideas were a "Trojan Horse" of cross-strait politics, one said.
IMPOSSIBLE
"His proposal is simply not possible," DPP Legislator Huang Wei-cher (黃偉哲) said. "Furthermore, his suggestion that China is the 'big brother' is an insult to Taiwan's sovereignty and dignity."
DPP Legislator Huang Sue-ying (黃淑英) compared the rail link, which would cross under either 130km of ocean or through gale force winds, to China's unification efforts to win over the country.
"Building a high speed rail connection is simply a shortcut for political unification," she said. "It's like an alternative version of the Trojan Horse story."
Reports said Chinese Nationalist Party (KMT) politicians were also miffed at Chen's "big brother" remarks.
"It's unacceptable," KMT Legislator Wu Ching-chih (吳清池) told reporters.
Both sides of the Taiwan Strait were in an "equal relationship," he said.
This was not the first time Chen has sparked debate during his controversial trip, his fifth to Taiwan.
Embossed on his 50,000 red envelopes were the words: "The Chinese race is one family," while a post on his blog says: "The motherland is Taiwan's anchor of support."
Soon after stepping off the plane, he told reporters he was in the country to "convey the warmth of the motherland."
CHARITABLE WORKS
However, the 42 year-old industrialist told Agence France-Presse earlier that: "I don't know anything about propaganda for Chinese reunification. I only know about charity and environmental work. I just want to do good."
Chen yesterday made a NT$10 million donation to the Taoyuan County Government, double the amount announced earlier. Half would be used for NT$1,000 subsidies for the disadvantaged, while the rest would be set aside for other social work.
Taoyuan County, which initially rebuffed Chen's advances, reportedly accepted the donation after Chen said he would hand the cash over directly instead of distributing it in red envelopes to hundreds of people as he has in other events.
During the handover, Chen said members of his group were not satisfied with the arrangement, telling him they had "no choice but to suffer in silence."
Meanwhile, Pingtung County Commissioner Tsao Chi-hung (曹啟鴻) said he would welcome a visit by Chen to his county, the first invitation from a DPP administrator. Tsao said he hoped the tycoon could support the county's welfare system instead of giving cash to low income recipients.
Chen, who is scheduled to leave tomorrow, does not have plans to visit any municipalities administered by the DPP.
Commenting on Chen's high-profile, Hon Hai Precision Industry Co chairman Terry Gou (郭台銘) — Taiwan's richest person — said yesterday it would be better if donations were not conducted so "nakedly."
"We are always reviewing how we can give [to the people we help] with more respect and acceptance," said Gou, who quietly donated NT$20 million to social welfare groups yesterday and had donated NT$15 billion to establish a specialized cancer treatment center at National Taiwan University in 2007.
CONCERNS
Taipei Mayor Hau Lung-bin (郝龍斌), who has expressed his own concerns about Chen's high-profile visit, applauded Gou for the low-key manner in which he had shared his wealth with society.
"Charitable work and good deeds should be done in a way that means recipients can receive the goodwill with dignity," he told the company's year-end banquet.
During the banquet, held at the Taipei International Flora Expo's Dajia Riverside Park area, Guo also donated 100 buses designed specifically to transport people with physical disabilities.
Hau lauded Guo and his firm for taking social responsibility as an enterprise, and said the city government would continue to fulfill its responsibility to improve the lives of minority groups, including providing them with job training at shelter factories.
"Teach a man to fish and you feed him for a lifetime. It's the best way to help; give those who are in need skills and a life with dignity," he said.
Hau has refused to give his full support to Chen and urged the Chinese businessman to give donations through civil groups.
Comments will be moderated. Keep comments relevant to the article. Remarks containing abusive and obscene language, personal attacks of any kind or promotion will be removed and the user banned. Final decision will be at the discretion of the Taipei Times.