Weather bureau warns of another cold, wet weekend
People across the country should brace for another cold and rainy weekend with the forecast arrival on Friday of a cold air mass that could send temperatures in the north to a low of 12oC, the Central Weather Bureau (CWB) said yesterday.
Bureau forecaster Douglas Hsiao (蕭家森) said the cold front lingering from the weekend would gradually weaken and temperatures would start climbing from today until Thursday.
While the sun showed its face in Taipei yesterday, Hsiao said the highest temperature in the city was only 15oC. Temperatures were warmer in central and southern Taiwan, with the mercury rising to 21oC and 22oC respectively.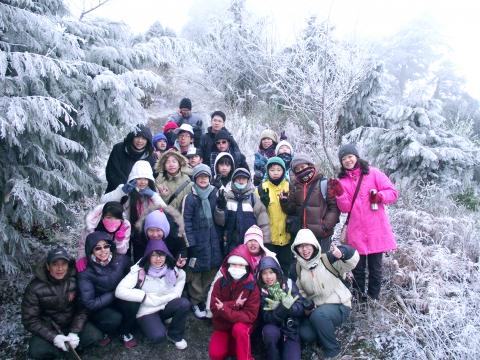 Students from Jhihtan Elementary School in Xindian District, New Taipei City, pose in a snowy forest as they visit a school in Hsinchu County.
Photo: Pan Hsin-hui, Taipei Times
However, the relatively stable weather is forecast to end on Thursday, with the arrival of another cold air mass with more humidity on Friday, Hsiao said.
Chances of rain are high nationwide, he said.
Hsiao added that the force of the cold air mass could potentially be weaker than last weekend's cold wave, but the bureau was still monitoring developments.
The cold weather has a taken a toll on the fishery industry, with the Council of Agriculture reporting yesterday that milkfish losses since Jan. 6 already topped NT$7.8 million (US$264,400).
Milkfish is one of the nation's most competitive aquaculture exports, with a majority of the fish farms located in the southwest.
As of 10am yesterday, Greater Kaohsiung's Lujhu District (路竹) was the hardest hit, with losses reaching approximately NT$4.1 million. It was followed by Syuejia District (學甲) in Greater Tainan, with losses reaching NT$3.7 million.
Last weekend's cold front, which brought temperatures down to their lowest readings this winter, also resulted in a spike in people seeking emergency care.
The emergency rooms of several hospitals across the nation were full, mainly with people suffering from chronic diseases.
A doctor at Linkou Chang Gung Memorial Hospital in New Taipei City (新北市) said nearly 600 patients filled the hospital's emergency room the previous day, about 33 percent more than usual.
The emergency room, where the temperature is lower than other wards, was so cold that some patients brought their own sleeping bags and blankets to keep warm, the doctor said.
ADDITIONAL REPORTING BY CNA 
Comments will be moderated. Keep comments relevant to the article. Remarks containing abusive and obscene language, personal attacks of any kind or promotion will be removed and the user banned. Final decision will be at the discretion of the Taipei Times.