Snow flakes fall on Yangmingshan as temperatures drop
Yangmingshan was icy cold early yesterday morning, with temperatures dropping to 0oC, a report by the Central Weather Bureau said.
Snow flakes fell at a bureau observation station located at about 800m above sea level in the early hours of the morning.
Around the nation, temperatures dropped to their lowest readings so far this winter early yesterday morning as a new cold snap caused by a continental Arctic air mass moved in from China.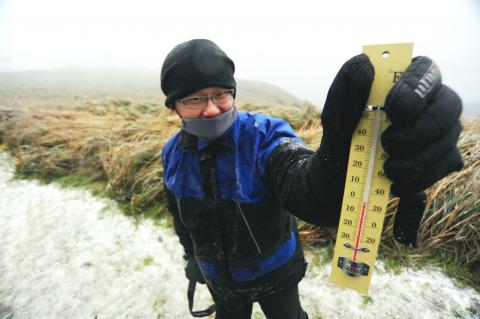 A visitor to Datunshan in Taipei holds up a thermometer to show that the temperature has dropped below 0°C yesterday. The area saw both sleet and snow yesterday.
Photo: Lo Pei-der, Taipei Times
The front brought temperatures down to as low as 6.8oC in the coastal area of Tamsui, New Taipei City (新北市).
The mercury was at 7.5oC in Suao (蘇澳), Yilan County, 8.1oC in Taipei, 9.1oC in Greater Taichung, 9.7oC in Greater Tainan and between 11oC and 12oC in Hualien and Taitung counties, meteorologists said.
Daytime highs were expected to be around 13oC in northeastern parts of the country, between 15oC and 16oC in the center, between 17oC and 18oC in the east and between 19oC and 20oC in the south, they forecast.
The mercury in low-lying areas north of Greater Tainan was expected to remain below 10oC last night and into this morning, they said.
The cold spell was forecast to subside later today, the bureau said.
Meanwhile, snow began to fall on Taipingshan (太平山) in Yilan County on Saturday, decorating the trees on the mountain with beautiful rime ice.
About 10cm of snow accumulated on the road leading to the Taipingshan Lodge, leaving some travelers stuck because they were not equipped with snow chains.
Snow was also reported to have fallen on Lalashan (拉拉山) and Tamanshan (塔曼山) in Taoyuan County since Saturday, attracting many sightseers.
Comments will be moderated. Keep comments relevant to the article. Remarks containing abusive and obscene language, personal attacks of any kind or promotion will be removed and the user banned. Final decision will be at the discretion of the Taipei Times.