Submarine situation dire: analyst
Amid the lack of consensus on whether to procure or develop submarines, the navy's lagging capabilities have become increasingly severe, a military analyst said yesterday.
Jyh-Perng Wang(王志鵬), associate researcher at the Association for Managing Defense and Strategies, said the nation's Hailung-class Sea Dragon and World War II-era Guppy-class submarines were overburdened with numerous drills and battle missions, spending as much as 27 days per month at sea. The two Guppy-class are now used solely for training, -leaving only two Hailung-class subs for actual missions.
Wang said physical and mental stress in the navy, coupled with a "no hope for the future" mentality, could result in a wave of retirement among senior officers.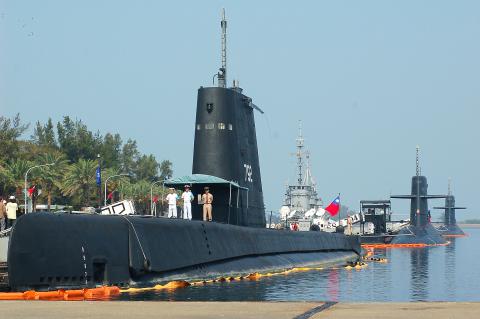 A Guppy-class submarine that has been in service for 66 years, front, and two Dutch-made Hailung-class submarines that have been in service for 25 years are pictured at the Tsuoying naval base in Greater Kaohsiung yesterday.
Photo: Hsu Shao-hsuan, Taipei Times
The 70-year-old Guppies, known as Sea Lion-class submarines, are in poor shape and require sustained maintenance, which is why every time the two submarines go out to sea, the Naval Command and Fleet Command are extremely nervous.
Crew on the subs are also constantly worried about accidents, which is why the burden now primarily falls on the two Dutch-made Hailung-class subs.
Sources have said that aside from battle missions, the two active submarines are responsible for "no-warning" and "warning" sea shark drills (or marine patrol operations), routine training assessment exercises by the fleet command, mine deployment and countering, as well as participation in the annual Han Kuang series of exercises. These drills take months to plan and execute, which could account for the exhaustion among officers.
Wang said that after more than 20 years of use, the Hailung-class subs were also getting old. When they entered service, they provided an edge against the vessels deployed by the People's Liberation Army Navy, but now that China's Song-class attack submarines were fitted with silencer tiles, it was time for the navy to retire its "-stegosaurus-class" subs and modernize.
Wang said he was concerned that salaries of between NT$30,000 and NT$40,000 per month offered by the navy were insufficient to retain personnel, since submarine crew are constantly under a lot of stress. The wave of senior officers who have retired early shows that the officers had lost confidence in the submarine fleet, which was a great loss for the navy.
ADDITIONAL REPORTING BY STAFF WRITER
Comments will be moderated. Keep comments relevant to the article. Remarks containing abusive and obscene language, personal attacks of any kind or promotion will be removed and the user banned. Final decision will be at the discretion of the Taipei Times.