2010 ELECTIONS: PROFILE: Su Tseng-chang: Comeback kid
Democratic Progressive Party (DPP) Taipei mayoral candidate Su Tseng-chang (蘇貞昌) is no stranger to the ups and downs in politics.
Before announcing his bid for the Taipei mayoral seat in March, Su had been lying low since losing the 2008 election as the DPP's vice presidential candidate.
Prior to this, Su had also kept a low profile after losing a re-election bid for Pingtung County commissioner in 1993 and resigning as premier in 2007 under the former DPP government.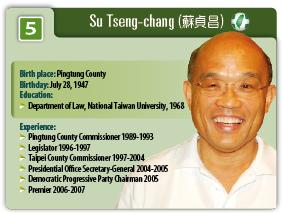 However these setbacks threatened his political career, Su has always managed to make a comeback. Moreover, his latest attempt to return to politics — through the Taipei mayoral race — could pave the way for the 2012 presidential election, as he is considered one of the DPP's frontrunners for the post.
Defending his commitment to the mayoral race, Su has said that he is looking no further than his current campaign, pledging to "do a good job and finish the term" if elected.
"Mr Su joined the election because he believes Taipei residents are rational enough to look beyond party affiliations and vote for a capable candidate," Su's campaign spokesman Lee Hou-ching (李厚慶) said.
A long-term aide who has assisted Su since the time he ran for Taipei County commissioner in 1997, Lee described Su as a politician who is precise, while being able to embrace new ideas.
Taking the advice of his campaign staff, who are mostly in their 30s and 40s, the 63-year-old candidate uses Facebook, Plurk (a local microblogging service similar to Twitter) and a personal blog to promote his campaign platform and interact with voters.
The traditional hard-line "deep-green" rhetoric is largely absent from his campaign. Su also started to wear pink polo shirts in campaign activities, softening his image as an aggressive and hardcore DPP heavyweight.
"Having served as a local government head, Su is good at interacting with the grassroots. He'd memorize their names and ask them about their family. Years of experience in politics have also made him more open-minded and tolerant," said DPP Taipei City councilor candidate Lan Shih-tsung (藍世聰), who worked as the director of the DPP's social development division when Su was the party chairman.
Su, also nicknamed "electric light bulb (電火球)" with his baldpate, worked as a human rights lawyer for more than 10 years before entering politics.
He joined former president Chen Shui-bian (陳水扁), former premier Frank Hsieh (謝長廷) and other activists in defending political dissidents in the "Kaohsiung Incident," a pro-independence rally in 1979 against the then-Chinese Nationalist Party (KMT) regime that turned violent, and became a politician two years later when he was elected to the former Taiwan Provincial Council.
He co-founded the DPP in 1986 and was elected Pingtung County commissioner in 1989. However, he suffered his first major defeat in 1993 when he failed to get re-elected.
Su resurfaced in 1997 when he won the Taipei County commissioner election, saving the pan-green stronghold for the DPP amid corruption allegations against the incumbent, You Ching (尤清).
Su had a good record of governance and gained popularity serving as the county commissioner for two terms, despite accusations from the KMT that he left Taipei County with a debt of more than NT$80 billion (US$2.6 billion).
While Su was a popular figure among pan-green supporters, he lost the DPP presidential primary to Hsieh in 2007. However, he agreed to overlook any conflict and teamed up with Hsieh as the vice presidential candidate.
"Losing the primary was a big blow to him, but he spent like 10 minutes to gather himself up and told his aides to accept the result and move on," Lan said.
The pair lost the presidential election in March 2008, and instead of staying active in politics, Su chose to spend more time with his family, who plays an important role in his life.
As a father of three daughters, Su said he lived in a "female dorm" surrounded by his mother, wife and daughters. He is often seen accompanying his mother and never hesitates to express his love to his wife.
"My wife has always been supportive and has remained the biggest calming force in my bumpy political career over the past 30 years," Su said in his campaign blog.
His close relationship with his three daughters, who put their work and school on hold to help with his election campaign, also helped establish his image as a family man.
In a recent interview with CtiTV, his eldest daughter, Su Qiao-huei (蘇巧慧), described her father as being meticulous about everything, even when it comes to wiping a table.
"You need to fold the cloth twice to make it about the size of your hand, and then use the cloth to wipe the table from right to left. He thinks it's more efficient that way," she said.
DPP Taipei City Councilor Huang Hsiang-chun (黃向群), a close aide to Su Tseng-chang, said his meticulous style brought a lot of stress for his aides, who were often scolded if they failed to do things his way and meet his standards.
"He is harsh on himself and on his staff, too," he said.
Expressing confidence in his ability to execute policies, Su Tseng-chang said he believed his precise and meticulous character would help in pushing for more efficient municipal developments.
"When I was in the Taipei County Government, one of my work principles was that no municipal projects should be delayed," Su said, and promised to "make city development proceed more efficiently if elected."
Comments will be moderated. Keep comments relevant to the article. Remarks containing abusive and obscene language, personal attacks of any kind or promotion will be removed and the user banned. Final decision will be at the discretion of the Taipei Times.