TSU submits signatures for another ECFA referendum
An initiative to refer the controversial Economic Cooperation Framework Agreement (ECFA) to a plebiscite has received enough signatures for submission to the Referendum Review Committee once again, organizers said.
Following two failed attempts earlier this year, the Taiwan Solidarity Union (TSU) announced yesterday it had gathered another 100,000 petition signatures, more than the number needed to be considered for placement on a future ballot.
"This initiative is reflective of the level of determination Taiwanese have to repeal the ECFA," TSU Chairman Huang Kun-huei (黃昆輝) said, leading party members in submitting the boxes of signatures to the Central Election Commission.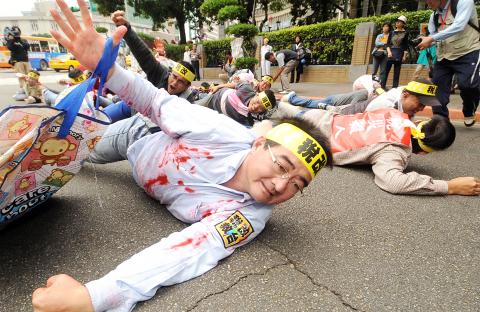 Taiwan Solidarity Union Chairman Huang Kun-huei, center, and party supporters yesterday submit boxes of petition signatures to the Central Election Commission for a new bid on an Economic Cooperation Framework Agreement (ECFA) referendum.
PHOTO: GEORGE TSORNG, TAIPEI TIMES
"Although the ECFA has already come into force, we still want to remind the public that the agreement's negative effects will soon become increasingly apparent," he said. "Very soon, everybody will be feeling the impact."
The measure, which must be approved by the Central Election Commission and the referendum committee before it can proceed to the second stage of the referendum process, will put the entire agreement to a legally binding public vote.
The committee, which is responsible for screening referendum measures, earlier this year rejected two related proposals that were spearheaded by the TSU, citing a contradiction between the referendum question and content of the proposal. An earlier proposal raised by the DPP was also rejected last year.
The TSU claims that efforts to block the referendums were "unfair and undemocratic," citing the Referendum Act (公投法), a position the government has dismissed.
Critics have said that the poll is necessary because the ECFA, which reduces cross-strait tariffs for select goods and services, will result in a harmful influx of cheaper Chinese goods. This could depress middle-class salaries and cost jobs, they said, especially among more traditional industries.
In April, a poll by the Liberty Times (the Taipei Times' sister newspaper) found that 36 percent of Taiwanese surveyed said they opposed the agreement compared with 28 who supported it.
Comments will be moderated. Keep comments relevant to the article. Remarks containing abusive and obscene language, personal attacks of any kind or promotion will be removed and the user banned. Final decision will be at the discretion of the Taipei Times.