Protesters demonstrate for Taiwan's admittance to UN
Dozens of protesters yesterday marched in front of the Ministry of Foreign Affairs, calling for an end to China's opposition to Taiwan's entry into the UN.
Marking Taiwan UN Day, an annual occasion started in 2007, participants in the protest said they wanted to see the Taiwanese public unite on the issue to put an end to Taiwan's "international orphanage."
"23 million Taiwanese love peace and have a responsibility to participate in [international] affairs and the upkeep of peace," said a statement released by organizers, mostly from pro--independence groups.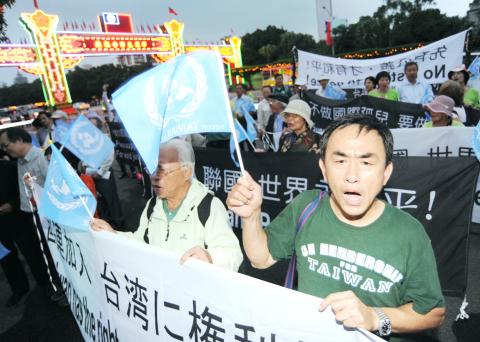 Members of the Taiwan UN Alliance and other non-governmental organizations demand that Taiwan be allowed to join the United Nations in a march that ended in front of the Ministry of Foreign Affairs in Taipei City yesterday.
PHOTO: LO PEI-DER, TAIPEI TIMES
"Taiwan is the country of all Taiwanese ... the people should work together to promote Taiwan's entry into the UN," the statement said.
Also attending the rally, Democratic Progressive Party (DPP) Legislator Twu Shiing-jer (涂醒哲) and former Government -Information Office (GIO) chief Shieh Jhy-wey (謝志偉) later led the group to deliver a written statement to the ministry, which said that Taiwan should immediately step up its efforts to join the UN.
Addressed to President Ma Ying-jeou (馬英九) and Minister of Foreign Affairs Timothy Yang (楊進添), the document represented the will of Taiwanese, said a -representative from the Taiwan United Nations Alliance, which helped organized the march.
In the one-page document, the groups wrote that the government should once again make a solid push annually to join the organization, in a pointed reference to a decision earlier this year to cease requests for Taiwan's allies to raise the issue.
Comments will be moderated. Keep comments relevant to the article. Remarks containing abusive and obscene language, personal attacks of any kind or promotion will be removed and the user banned. Final decision will be at the discretion of the Taipei Times.