FEATURE : Chang tastes success on and off basketball court
BRAINS AND BRAWN Former hoops star Richard Chang says lessons learned from sports, such as teamwork, time management and perseverance, apply to other fields
Richard Chang (張嗣漢) no longer plays basketball for a living, but he carries his hoop memories with him everywhere — on an iPhone.
For the general manager of Costco Taiwan, one of the biggest wholesale clubs in Taiwan, the photos and video clips stored on his smartphone remind him of the earlier part of his life when he played college basketball in the US, represented Taiwan in international competitions and became a "legend" in local hoop history.
In a recent interview Chang said his cross-Pacific experience was why he was able to relate to the success of Jeremy Lin (林書豪), the first Taiwanese-American player to sign a contract with a club in the NBA.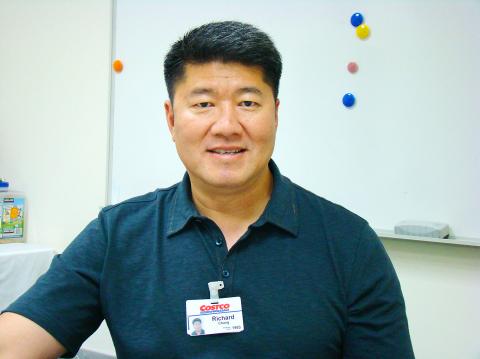 Former professional basketball player Richard Chang is now general manager of Costco Taiwan.
PHOTO: CNA
"Jeremy Lin serves as a good role model for Taiwanese athletes," Chang said of the Harvard graduate of Taiwanese descent, who signed with the NBA's Golden State Warriors in July and became the first Harvard basketball player to make it to the NBA in 57 years.
Chang's experience was also why he encourages local players to strive for their best on the basketball court, while at the same time making plans for their lives off the court.
Chang said Lin's inspiration lies not only in the fact that he made the league with a height of 190cm — relatively short by NBA standards — but that he has been able to successfully balance his studies and basketball career.
"Eight out of 10 Taiwanese players have no goals in life. Playing basketball is all they know and all they do," said Chang, who played college basketball for the University of California at Berkeley in the mid 1980s.
"Coupled with local basketball's lack of management and commercial success, it's not surprising that most Taiwanese parents do not want their children to play basketball," he said.
Chang said he never thought about playing in the NBA when he was young, because "times were different back then."
He was invited to play for Taiwan's national team in the annual Jones Cup invitational tournament in 1985 and did well, helping the team to victories over Japan and South Korea and leaving local fans with a strong impression of his "power play" style.
Soon, Chang found himself playing for the McDonald's team in the local league. Being able to play ball and get paid "was pretty cool for me at the time," he said, adding that he also had a day job working at a trading company.
After a little more than two years, Chang felt that something was wrong. With the lack of competition in the league, which was going nowhere, he found that playing basketball "was not fun anymore."
Chang decided that his basketball career was over at the age of 25 and returned to the US to look for work. He was sent to work in Southeast Asia by a US company before coming back to Taiwan to establish Costco Taiwan in 1995. The discount megastore now has six branches across the country.
For Taiwanese athletes, "a bad goal is better than no goals because at least you can work toward a certain direction," Chang said.
He added that he has hired a lot of former athletes at Costco because he wanted to give them an opportunity to excel and athletes are often better at persevering than others.
Playing sports and running a megastore might seem like completely different jobs, but Chang said there are many lessons in sports that one can apply to other fields, including business management, perseverance, time management, integrity, teamwork and the belief that "practice makes perfect."
Sports management is also similar to business management in a lot of ways, Chang said. To vie for modern day consumers' "entertainment dollars," people who run sports leagues are advised to have a "consumer first" mentality and produce the "best product," which means the best sports competition and consumer service.
"You have to try to manage your sports like managing a brand," he said.
The 2m tall executive from Huntington Beach, California, also urged Taiwanese children and athletes against viewing basketball stars Michael Jordan or Kobe Bryant as their role models.
"Let's face it, you're never going to be the next Jordan or Bryant because they are 'one in a million' type of athletes, but if you work hard, you can be a successful accountant or surgeon like your neighbors. That is a more realistic goal," he said.
Chang lamented that the sports scene in Taiwan remained unchanged after all these years as sports associations and clubs "have not done anything" to improve sports development to benefit athletes, especially professional ones.
As a result, most unprepared athletes can only find work as physical education teachers or coaches when they retire.
"But do we need so many coaches and PE teachers?" Chang asked.
Comments will be moderated. Keep comments relevant to the article. Remarks containing abusive and obscene language, personal attacks of any kind or promotion will be removed and the user banned. Final decision will be at the discretion of the Taipei Times.