Protesters demonstrate for Japan's 'comfort women'
VICTIMS OF COLONIALISM Japan still refuses to admit it ever recruited women for use as sex slaves by its Imperial Army, let alone apologize or compensate them
As part of a globally coordinated action, activists for former comfort women's rights yesterday staged a demonstration outside Japan's representative office in Taipei, ahead of the 65th anniversary of Japan's surrender on Sunday, demanding Japan apologize for the recruitment of comfort women during World War II.
Holding up signs that read "I won't forget until I die" and "Japanese government, apologize," dozens of demonstrators from across the country chanted slogans as they demonstrated outside the restricted area in front of the Japanese representative office in Taipei.
"It's been nearly 65 years since Japan surrendered," Taipei Women's Rescue Foundation executive director Kang Shu-hua (康淑華) told the crowd. "We would like to urge the Japanese government to honestly admit its wrongdoings in the past, so that the mistakes won't be repeated again."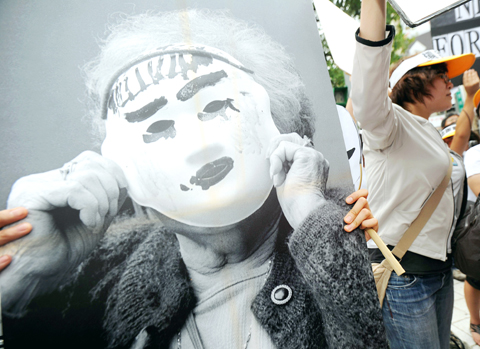 A women's rights activist displays a portrait of a "comfort woman," a woman pressed into sexual slavery by the Japanese military during World War II, during a demonstration outside the Japan Exchange Association in Taipei yesterday.
PHOTO: AFP
During World War II, the Japanese government recruited — most often through deception and coercion — tens of thousands of women from its colonies and occupied areas to serve as "comfort women" to provide sex at military brothels.
The Japanese government still refuses to admit it recruited comfort women and has declined demands for an apology or compensation.
"I don't remember how many times I have demanded Japan's apology. If Japan can apologize to South Korea for its invasion of that country, it should also apologize to those Taiwanese who suffered under Japanese imperialism," Democratic Progressive Party Legislator Huang Sue-ying (黃淑英) said.
Many members of groups representing victims of Japanese colonialism came to express their support for the comfort women.
"In fact, Japan not only recruited comfort women during World War II, it also deployed more than 200,000 Taiwanese men to serve in the Japanese Imperial Army in Southeast Asia and China," said Chung Sheng-huang (莊盛晃), executive director of the Kaohsiung City Association for Taiwanese Veteran Soldiers. "We should not forget the history."
Taiwan POW Camps Memorial Society director Michael Hurst, said it's time for reconciliation and forgiveness, but Japan must first apologize.
"If no one admits the wrongdoing, how can people forgive?" he said.
The demonstrators later marched to the Japanese office to deliver a letter of protest, which was accepted by an officer from the Japanese representative office, who did not reveal his name or title.
When the demonstrators asked the Japanese officer to put the final puzzle piece into a map of Taiwan with pictures of victims of Japanese imperialism and colonialism, the officer refused.
"The puzzle symbolizes the historical memory, which can only be full if the Japanese government faces history," Kang said. "We regret that it could not be completed because the Japanese government was reluctant to join."
Comments will be moderated. Keep comments relevant to the article. Remarks containing abusive and obscene language, personal attacks of any kind or promotion will be removed and the user banned. Final decision will be at the discretion of the Taipei Times.