APPROACHING ECFA: President says ECFA won't bring 'one China market'
'BE MORE RATIONAL' The KMT spokesperson said he respected the opposition's right to protest, but added that it should help the government oversee the pact
President Ma Ying-jeou (馬英九) yesterday promised that an economic cooperation framework agreement (ECFA) Taipei plans to sign with Beijing on Tuesday would not lead to a "one China market."
Ma said he respected the Democratic Progressive Party's (DPP) decision to hold a demonstration calling for a referendum on an ECFA yesterday because holding parades and assemblies was a right guaranteed by the Constitution.
As the theme of the opposition-led protest was "Oppose a one China market, hold a referendum," Ma said the planned pact would not lead to a "one China market." However, the president did not elaborate.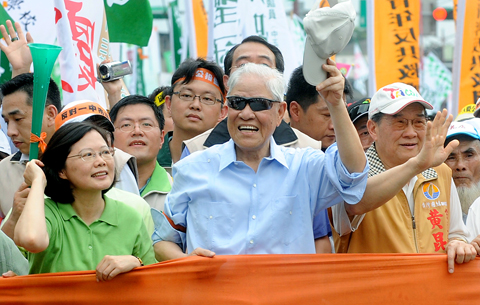 Former president Lee Teng-hui, front center, Democratic Progressive Party ­Chairperson Tsai Ing-wen, front left, and Taiwan Solidarity Union Chairman Huang Kun-huei lead protesters on a march through the streets of Taipei yesterday.
PHOTO: CNA
Ma made the remarks in Kaohsiung County yesterday morning while attending a ribbon-cutting ceremony for the Jiasian Bridge (甲仙大橋), which collapsed during Typhoon Sinlaku in 2008.
Ma said his administration would not dodge legislative oversight, adding that the proposed accord would be sent to the Executive Yuan for approval on July 1 before proceeding to the legislature.
Instead of blindly opposing the trade deal, Ma said, he urged the DPP to jointly oversee the legislative process.
Meanwhile, Chinese Nationalist Party (KMT) spokesman Su Jun-pin (蘇俊賓) yesterday said his party respected freedom of speech, but added that opposition parties should supervise the government in a more rational manner rather than categorically reject an ECFA.
Su said the public could clearly see the commercial advantages that an "early harvest" list would bring, while the DPP's appeal against it was vague and flimsy.
"We're not sure whether they are against an ECFA entirely or just part of it," he said. "We don't even know what kind of questions they want to ask in the referendum. With so much ambiguity, how do they expect the public to come out and support them?"
With the five special municipality elections to be held in November, Su said his party would face ECFA-related issues head-on and beef up a promotional campaign to advertise the benefits the trade pact would have on Taiwan's industries and on the balance of regional development.
The Presidential Office will also join the promotional campaign, Presidential Office Spokesman Lo Chih-chiang (羅智強) said. Lo said that Ma, after the deal is signed next week, would reveal his vision for the country's global economic strategy in the "post-ECFA" era.
The plan would serve as the blueprint for the "golden decade" he envisioned, Lo said, adding that it would cover business transformation, attracting foreign investment and assisting disadvantaged industries in coping with the impact of the trade deal.
Comments will be moderated. Keep comments relevant to the article. Remarks containing abusive and obscene language, personal attacks of any kind or promotion will be removed and the user banned. Final decision will be at the discretion of the Taipei Times.