Taiwan, PRC at 'historic juncture': Ma
'OUT OF THE PICTURE' The president said the Taiwan Strait and the Korean Peninsula were the two main flashpoints in Asia, but now tension in the Strait has been reduced
President Ma Ying-jeou (馬英九) said Taiwan and China were at an "historic juncture" and that his engagement of Beijing through trade had put relations on their surest footing in more than half a century.
"This is a very meaningful job for Taiwan at an historic juncture," Ma told AFP in an interview on Thursday.
"If we can contribute to peace and prosperity across the Taiwan Straits [sic], the accomplishments would be historic," said Ma, describing the present as the "most peaceful era in history."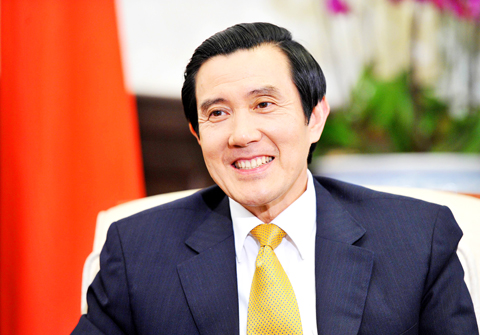 President Ma Ying-jeou listens to a question during an interview at the Presidential Office in Taipei on Thursday.
PHOTO: SAM YEH, AFP
Shrugging off poor opinion polls and criticism that his policy amounted to appeasement that would damage Taiwan's economy and security, Ma said Taiwan's future prosperity was inextricably linked with progress in China.
However, Ma said that the former enemies had a long way to go adding that his government would not consider formal peace talks until China removed or dismantled more than 1,000 missiles targeting Taiwan.
Despite often tense relations, the past 20 years have seen massive Taiwanese investment in China, with the country overtaking the US as Taiwan's biggest export market.
Since taking office in May 2008, Ma's administration has since signed 12 economic agreements with China paving the way for, among other things, increased flights and tourist arrivals, and calming one of Asia's most volatile security situations.
"It's very important that the tension has been greatly reduced. In this part of the world, as you can see, there are two flashpoints — the Korean Peninsula and the Taiwan Straits," he said. "If we can take one out of the picture, I think everyone will be happy and this is exactly what we are doing now."
Ma said Taiwan had risked being left behind in an era of rapidly expanding free-trade agreements across Asia.
"In the last 10 years FTAs, free-trade agreements, rose from three to 58, with the notable absence of Taiwan and North Korea," he said.
To tie Taiwan into this regional network, Ma has been pushing for an economic cooperation framework agreement (ECFA) with China that he said would unlock unused potential by offering lower tariffs for a select list of industries.
Ma's admininistration hopes to sign it with China in June, he said, arguing that in a time of interlinking economies and ever fiercer competition, there was no alternative.
"Diplomatic isolation can be handled, and we handle it well, but with economic isolation we have to be very careful. If we lose the market share in a given country, it will be very difficult to get it back," he said.
Critics, however, oppose an ECFA amid fears that it would jeopardize Taiwan's sovereignty and make it too economically dependent on China.
Ma, who has seen his approval ratings fall below 30 percent in some polls mainly because of criticism of his China and economic policies and a perception he is not decisive enough, said an ECFA would strengthen Taiwan's current status quo.
"It will make the status quo more favorable to Taiwan because it will increase Taiwanese products' competitiveness in the world and will make Taiwan's status in East Asia even stronger than before," he said.
Ma said there were no plans to start political dialogue with China and he said the time was not right for him to consider a visit to Beijing.
He said Taiwan was watching "with concern" the human rights situation in China following deadly unrest in Tibet in 2008 and Xinjiang last year, the ongoing crackdown on dissent and the conflict with Internet giant Google.
Comments will be moderated. Keep comments relevant to the article. Remarks containing abusive and obscene language, personal attacks of any kind or promotion will be removed and the user banned. Final decision will be at the discretion of the Taipei Times.