CAA says Songshan safe for use by Airbus A330s
Songshan International Airport will accommodate Airbus A330 aircraft when all safety concerns are fully addressed, the Civil Aeronautics Administration (CAA) said yesterday.
The CAA made the statement after Chinese Nationalist Party (KMT) Legislator Alex Tsai (蔡正元) raised safety concerns about the airport, which is scheduled to launch direct flights to Japan's Haneda Airport in October.
The CAA dismissed Tsai's fears that Songshan's runway may not be strong enough to withstand takeoffs and landings by A330s. It said that it had inspected the airport's facilities and confirmed that the pavement classification number (PCN) — a standard used by International Civil Aviation Organization (ICAO) to indicate the strength of a runway, taxiway, or airport ramp — was 67. The A330s' classification number (ACN), which shows the effect of an aircraft on a runway, is 62.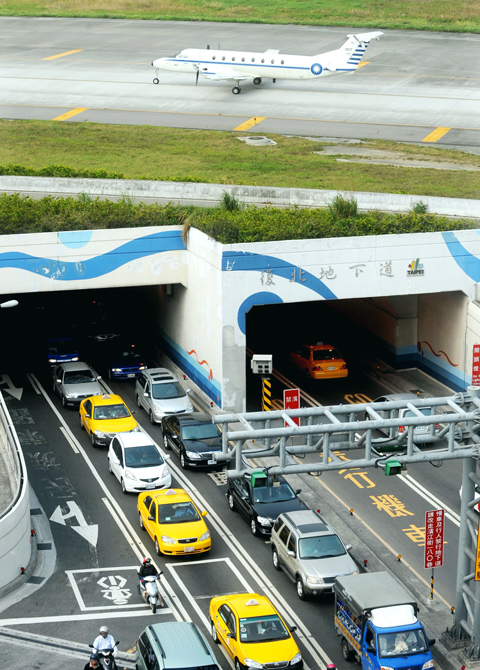 An aircraft readies for takeoff on a Songshan International Airport runway that extends over the Fuxing North Road underpass in Taipei yesterday. A decision to allow Airbus A330 aircraft to take off and land from this section of the airport have led to concerns about whether the underpass can sustain the aircraft's weight.
PHOTO: LIN CHENG-KUNG, TAIPEI TIMES
The runway's PCN is larger than the ACN, meaning that the airport's runway is safe to handle the A330, the CAA said.
It said the airport's taxiway E was about 40m from an Air Force fuel depot. Since the wide wings of the A330 require the distance be expanded to 47.5m, the CAA decided to move back the buffer wall of the oil depot to fulfill the requirement, adding that construction was completed in September.
Addressing Tsai's allegation, that the runway could collapse and subsequently crush the underground tunnel on Fuxing N Rd if A330s are allowed to land at Songshan, the CAA said the Taipei City Government had designed the tunnel to withstand landings by Boeing 747 aircraft, which have higher take off and landing standards than the A330.
Comments will be moderated. Keep comments relevant to the article. Remarks containing abusive and obscene language, personal attacks of any kind or promotion will be removed and the user banned. Final decision will be at the discretion of the Taipei Times.