Man acquitted of stealing tortoise
A man accused of stealing a tortoise has been found not guilty of theft by the Taichung District Court.
The plaintiff, "A-cheng" (阿城), bought a sulcata tortoise at a Taichung County pet store more than 20 years ago. He kept the pet at an outdoor restaurant he owns in Changhua County to entertain customers. Over the past two decades, the tortoise has grown to 40kg. Two months ago, it went missing.
Convinced that the tortoise had been stolen, A-cheng contacted the pet store to say he wanted to buy a sulcata tortoise. He hoped the thief would surface and try to sell the tortoise.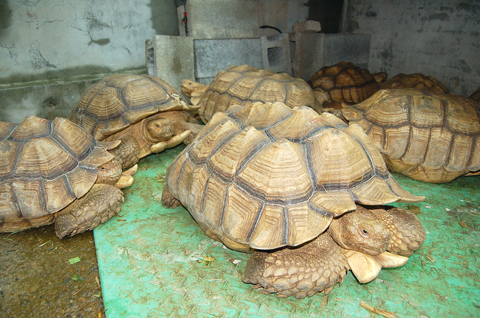 Sulcata tortoises are pictured in Taipei County yesterday.
PHOTO: CHIU SHAO-WEN, TAIPEI TIMES
When a seller surnamed Chou (周) contacted A-cheng about selling him a tortoise, A-cheng requested that Chou send a photo of the animal.
After comparing the photo with his own photos of his missing pet, A-cheng and the pet store staff agreed the animal was one and the same.
A-cheng arranged to meet Chou to complete the deal, but reported the incident to police, who arrested Chou at the scene.
The judges at Taichung District Court summoned expert witnesses including a veterinarian and zookeepers, who examined the shell patterns in the photos and confirmed that Chou's tortoise was in fact A-cheng's missing pet, court spokesman Chang Kuo-chung (張國忠) said.
But Chou said he had not stolen the tortoise and produced papers to prove he had bought it in 2005.
Chou said he decided to sell the tortoise because it grew at a miraculously fast rate.
The judges found Chou not guilty, saying there was no proof that Chou had stolen the animal.
However, the judges asked prosecutors to investigate the matter further to determine whether anyone had violated animal protection laws, Chang said.
The tortoise is now at Taipei City Zoo as it is a protected species.
Comments will be moderated. Keep comments relevant to the article. Remarks containing abusive and obscene language, personal attacks of any kind or promotion will be removed and the user banned. Final decision will be at the discretion of the Taipei Times.