Seasonal flu vaccine in short supply: DOH chief
PRIORITY The Department of Health said that people not belonging to high-risk groups would not have access to the vaccine even if they are willing to pay for it
Because of a global shortage of the vaccine against seasonal flu, the Department of Health (DOH) has only been able to secure 2.99 million doses, far lower than its target of 5 million, DOH Minister Yaung Chih-liang (楊志良) said yesterday.
"As the amount is hardly enough to inoculate individuals in high-risk groups, the average citizen may not have access to a vaccine shot," Yaung said.
Today marks the beginning of the annual seasonal flu vaccination program. However, Yaung said that no publicly funded doses would be provided to individuals who do not belong to high-risk groups, even if they are willing to pay.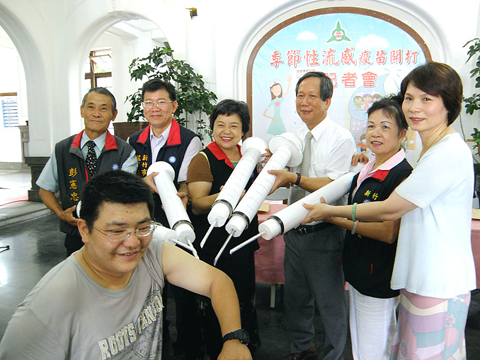 Staffers at Hsinchu City's Bureau of Health and government officials use giant syringes to promote the annual seasonal flu vaccination program, which begins today, at a press conference in Hsinchu County yesterday.
PHOTO: HUNG HSIU-MEI, TAIPEI TIMES
Based on the DOH's priority list, the seasonal flu vaccines will be given to the following groups of people in descending order — the elderly, medical personnel in charge of disease control and prevention, poultry breeders and patients with rare or serious diseases.
Next in the high-priority group are children from six months of age to those in fourth grade, and people living in prefabricated houses or shelters in the aftermath of Typhoon Morakot.
Meanwhile, Yaung said the DOH would respect President Ma Ying-jeou's (馬英九) wish to receive a locally produced A(H1N1) influenza vaccine.
"Whether and when President Ma should get vaccinated with a locally produced A(H1N1) vaccine is a political issue and the DOH's stance on the issue is to respect the president's choice," Yaung said at a legislative session.
Lawmakers expressed concern over whether Ma is on the priority list to receive shots of locally produced A(H1N1) vaccine.
Chinese Nationalist Party (KMT) lawmakers asked why Ma was placed in the lowest priority group, far below education and communications ministers who are included in the broadly defined category of personnel in charge of disease control and prevention.
Democratic Progressive Party Legislator Huang Sue-ying (黃淑英) questioned the wisdom of Ma receiving a shot of locally produced A(H1N1) vaccine because the safety of the Adimmune vaccine had not been verified.
Yaung said he would not oppose putting Ma in the broadly defined disease control personnel category because the president is often on community outreach tours.
"But the social mood is quite strange ... If Ma is placed high on the priority list, it could draw criticism that he is dominating national resources," Yaung said. "But if he does not get a vaccine shot, some people might accuse him of lacking confidence in locally produced vaccine."
Ma last week said he would volunteer to be among the first recipients of the locally produced A(H1N1) vaccine to increase public confidence in the product, even though he is not on a list of priority recipients.
Comments will be moderated. Keep comments relevant to the article. Remarks containing abusive and obscene language, personal attacks of any kind or promotion will be removed and the user banned. Final decision will be at the discretion of the Taipei Times.