MORAKOT: THE AFTERMATH: Agencies put together 'wish lists'
MOST WANTED Following the decision to accept foreign aid, government agencies were told to produce a list of items they need countries to donate
Rescue workers are in need of prefabricated housing and aircraft that can carry heavy-duty gravel trucks and excavators into disaster areas to help speed up post-disaster relief and reconstruction operations, an official said yesterday.
"What we need is a way of getting 32-tonne gravel trucks and excavators into mountainous villages ravaged by floods and mudslides triggered by Typhoon Morakot," National Fire Administration Director-General Huang Chi-min (黃季敏) said.
Huang made the remarks after the Executive Yuan confirmed yesterday that the government would accept foreign assistance and has directed all central government agencies to come up with lists of items that they need other countries to donate or supply to facilitate rescue and reconstruction efforts in the hardest-hit villages in mountainous regions.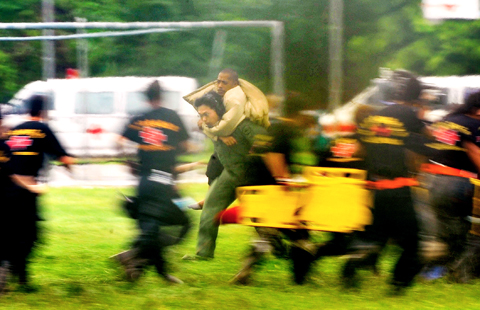 Villagers that were trapped in a remote village get out of an army CH-47 utilities helicopter upon their arrival in Chishan, Kaohsiung County, on Wednesday.
PHOTO: SAM YEH, AFP
Huang said the largest chopper used by the military is the CH-47, which can transport a maximum of 12 tonnes of cargo and has a maximum lift capacity of only about 6 tonnes. As a result, the Ministry of Transportation and Communications had only been able to deliver two light excavators to a village in Kaohsiung County engulfed by a mudslide, he said.
Noting that the most efficient way to repair damaged mountain roads is to work simultaneously from both ends of the damaged sections, Huang said borrowing large aircraft to airlift heavy machinery into the disaster zones was desperately needed to accelerate the reconstruction work.
However, a military flight instructor later pointed out that the maximum handling capacity of the biggest choppers in existence is only about 20 tonnes, adding that the US-built CH-54 and the Russian MI-26 can accept such payloads.
"We can deliver medium-sized machinery if there are no helicopters capable of carrying heavy-duty equipment," a ministry official said.
The Ministry of Economic Affairs requested 100,000 bottles of disinfectant and 200,000 chlorine pills, while the Department of Health called for 1,500 disinfection machines and the National Research Center requested six rescue helicopters.
Meanwhile, the Construction and Planning Agency published a report saying it hoped that other countries could provide 1,000 prefabricated houses to help shelter displaced typhoon victims.
The Central Disaster Emergency Operation Center said it would welcome overseas search and rescue teams willing to come to Taiwan to assist in locating people who remain unaccounted for after mudslides tore through several remote mountain villages in central, southern and eastern Taiwan.
Comments will be moderated. Keep comments relevant to the article. Remarks containing abusive and obscene language, personal attacks of any kind or promotion will be removed and the user banned. Final decision will be at the discretion of the Taipei Times.