Tourism Bureau denies hotel bid
PRISON TRAINING CENTER The Tourism Bureau said it had nothing to do with the facility on Green Island as it fell under the jurisdiction of the Council of Cultural Affairs
The Tourism Bureau yesterday denied that it was planning to turn the Training Institute (技能訓練所) on Green Island into a "prison hotel."
"The Green Island Training Institute, along with the Oasis Villa [綠洲山莊], are part of Green Island Human Rights Memorial Park [綠島人權文化園區]," the Tourism Bureau said in a statement.
"The park belongs to the Council of Cultural Affairs [CCA], which has assigned the Taitung Life Cultural Art Center — one of the CCA's subordinates — to renovate the facilities inside. They already had plans to turn it into a tourist attraction.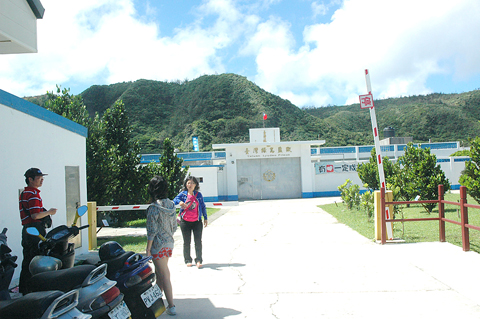 The Green Island Prison is pictured in Taitung County on July 19. The prison, which housed political prisoners during the Martial Law era, has become a tourist attraction.
PHOTO: CNA
The Tourism Bureau does not participate in any of the CCA's projects, nor does it have any plan to take over or rebuild the training institute into a hotel," the bureau said.
The bureau made the statement after a story in the Chinese-language newspaper the United Daily News yesterday said that the bureau was planning to work with the CCA to turn the former institute for inmates into a hotel.
Green Island was one location where political prisoners were jailed during the White Terror. Some of the nation's most dangerous criminals were also housed there.
The institute is a European-style building that was used as a place for prisoners to learn new skills.
The facility has ceased its former function, with part of the facilities damaged by typhoons.
Oasis Villa was the name of the prison for political dissidents during the Martial Law era.
Some of its inmates included the late writer Bo Yang (柏楊), former Democratic Progressive Party chairman Shih Ming-teh (施明德) and DPP Legislator Wang Sing-nan (王幸男).
Meanwhile, the bureau said it has selected Green Island and Liouciou Island as areas for ecotourism.
Aside from designing ecotours, the bureau will develop transportation systems to help curb carbon dioxide emissions and build energy-saving facilities.
Comments will be moderated. Keep comments relevant to the article. Remarks containing abusive and obscene language, personal attacks of any kind or promotion will be removed and the user banned. Final decision will be at the discretion of the Taipei Times.