Ex-'comfort woman' lives the dream
NONAGENARIAN FLYING HIGH Wu Hsiu-mei said she felt 30 years younger after spending the day as a flight attendant at a China Airlines training center in Taipei
It took 93-year-old Wu Hsiu-mei (吳秀妹) a long time, but yesterday she lived her dream of being a flight attendant, albeit only for the day.
"I'm so lucky that I can still become a flight attendant at this age," Wu said as she walked out of a mock airplane at the China Airlines training center in Taipei. "I'm so nervous," she said, smiling.
Wu has not always been so fortunate.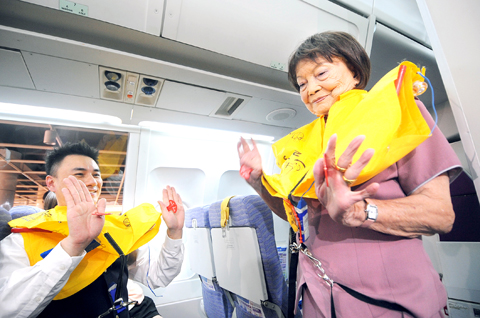 Ninety-three-year-old Wu Hsiu-mei, right, demonstrates how to use a life jacket during a flight attendant course on board a mock airplane at the China Airlines training center in Taipei yesterday, finally fulfilling her lifelong dream of becoming an air hostess.
PHOTO: FANG PIN-CHAO, TAIPEI TIMES
Since her parents could not afford to raise her, she was sold to another family at the age of nine. At 19, Wu's adoptive mother sold her to a small hotel to work as a servant and a prostitute.
In 1940, the Japanese colonial government forced her to go to Guangdong Province in China to serve as a "comfort woman" — or forced military prostitute. Wu said she often had to take more than 20 "clients" a day.
After the war she married twice, but her husbands did not treat her well after finding out about her past.
"Wu told us once that she dreamed of being a flight attendant, but thought that dream could only come true in her next life," said Cynthia Kao (高小晴), executive director of the Taipei Women's Rescue Foundation, which helps former comfort women and came up with a project to help them fulfill their dreams earlier this year. "But we decided to make her dream come true in this life."
Kao talked to China Airlines about the idea, and the airline was happy to oblige.
Before Wu started "work" yesterday, a flight attendant instructor put on makeup for her, while a flight attendant helped her change into a tailor-made uniform.
Last week, Wu received training as a flight attendant, instructor Joshua Tsai (蔡政達) said.
"She was a great student and learned fast," Tsai said.
Wu then walked into the mock airplane used for training flight attendants and demonstrated how to use the seat belt and the life vest. She then served snacks and drinks to her passengers — a group of intern flight attendants and reporters.
At the end, Wu stood by the door and greeted each passenger as they left the "aircraft."
"I wanted to become a flight attendant because they all seem to be so free and they can travel to so many places," Wu said. "I feel 30 years younger now."
Comments will be moderated. Keep comments relevant to the article. Remarks containing abusive and obscene language, personal attacks of any kind or promotion will be removed and the user banned. Final decision will be at the discretion of the Taipei Times.