MRT shortens service intervals
TRAVEL PROBLEMS After complaints that Neihu Line cars were a problem for disabled passengers, Hau Lung-bin said that facilities would be installed as capacity stabilizes
The flow of passengers at Taipei's Zhongxiao Fuxing MRT transfer station was much improved during rush hour yesterday, with the Taipei Rapid Transit Corp (TRTC) dispatching trains at shorter intervals to accommodate the large number of commuters traveling on the newly opened Neihu Line.
The measures came after passenger volumes caught officials by surprise on Monday, causing huge lines and delays for thousands of passengers.
The TRTC increased the number of trains from 30 to 46 trains to carry passengers at intervals of 90 seconds from about 7:30am to 9am yesterday, TRTC general manager Tsay Huei-sheng (蔡輝昇) said yesterday at Taipei City Hall.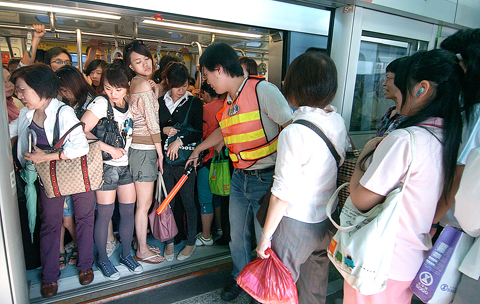 A station attendant instructs passengers to mind the doors as they board a crowded train at Zhongxiao Fuxing MRT Station on Monday.
PHOTO: CHIEN JUNG-FONG, TAIPEI TIMES
Approximately 320,000 people used the MRT system between 6am and 10am yesterday — the second weekday after the Neihu Line commenced operations on Saturday, Tsay said.
Democratic Progressive Party (DPP) Taipei City councilors Yen Sheng-kuan (顏聖冠), Hung Chien-yi (洪健益) and a group of disabled residents visited Songshan Airport Station yesterday, urging the city government to address their needs after disabled groups complained about the inconvenience of taking the MRT.
Liu Chin-chung (劉金鐘), chief secretary of the League of Welfare Organizations for the Disabled, said there were no disabled passenger zones in the Neihu Line cars and that it was difficult for disabled passengers to get on the cars at the crowded platforms.
Yen and Hung said the city government should install disabled facilities and appoint staff to assist the disabled at major MRT stations.
Taipei Mayor Hau Lung-bin (郝龍斌) said yesterday that the TRTC would set up disabled passenger zones after the capacity of the Neihu Line stabilized because it will involve removing some seats and handles.
Hau said the most urgent issues for now were the system's false alarms and integration problems with the MRT Muzha Line, which have caused several delays over the last three days.
Hau dismissed some Neihu residents' calls for the TRTC to cut ticket prices on the Neihu Line by NT$5 because the cars were smaller than those on some other lines.
"The Taipei MRT system is built for all residents in Taipei, and the ticket price is set according to the travel distance," he said.
Hau said the train's builder, Montreal-based Bombardier, would send software engineers to inspect the computer systems and improve the detection of false alarms.
Comments will be moderated. Keep comments relevant to the article. Remarks containing abusive and obscene language, personal attacks of any kind or promotion will be removed and the user banned. Final decision will be at the discretion of the Taipei Times.