Anger rises over Ma's statement on Chinese text
Lawmakers across the political spectrum yesterday denounced President Ma Ying-jeou's (馬英九) proposal that Taiwan and China come to an agreement on the use of Chinese characters.
Ma on Tuesday said he hoped Taipei and Beijing could reach an agreement on the teaching of traditional and simplified Chinese characters at schools for overseas Taiwanese and Chinese, so that students would be taught to read traditional characters and write simplified characters.
Democratic Progressive Party (DPP) spokesman Cheng Wen-tsang (鄭文燦) said Ma, as the head of state, should have been more sensitive to issues dealing with cultural sovereignty.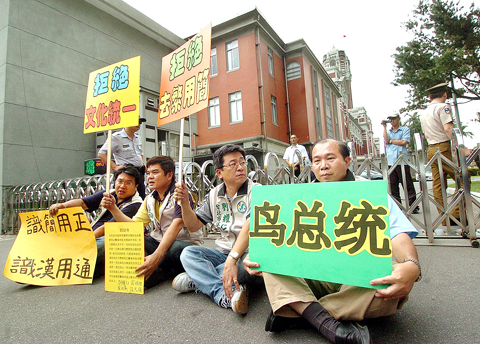 Democratic Progressive Party Taipei City councilors Chang Mao-nan, right, Liu Yao-jen, second right, Chuang Jui-hsiung, second left, and Huang Hsiang-chun protest at the Presidential Office in Taipei yesterday, criticizing President Ma Ying-jeou's suggestion on Tuesday that Taipei and Beijing reach a consensus on "understanding traditional characters and writing simplified characters."
PHOTO: FANG PIN-CHAO, TAIPEI TIMES
"Instead, Ma chose to cooperate with China to promote simplified Chinese characters, trampling on the nation's cultural integrity," Cheng said.
Saying that Ma first replaced Tongyong Pinyin with Hanyu Pinyin as the official Romanization system for Chinese after assuming the presidency last year, which was followed by a proposal to allow Chinese students to enroll at Taiwanese schools and his recent remarks on simplified Chinese, DPP Legislator Wong Chin-chu (翁金珠) said: "Obviously Ma is using culture [as a tool] to promote unification with China."
DPP Legislator Kuan Bi-ling (管碧玲) said that traditional Chinese would be lost forever if schools were encouraged to teach simplified Chinese.
"I am shocked to hear the president intends to consign our ancestors' memorial tablets to the gutter," she said. "Any three-year-old knows what he said is a lie. To abandon traditional Chinese is to sell out the country."
Kuan said she was curious to know why Ma was so politically anxious to push the Chinese agenda, adding that he did not need to curry favor with Beijing to win the position of "chief of a special administrative zone."
At a separate setting yesterday, Taiwan Solidarity Union Chairman Huang Kun-huei (黃昆輝) said Ma was following Beijing's strategy that "cultural and economic unification precedes political unification."
Noting that Chinese Nationalist Party (KMT) and Chinese Communist Party representatives are meeting next month to discuss education and culture, Huang said he believed the two sides would discuss Chinese writing systems during the talks and that Ma would promote simplified Chinese in Taiwan after the meeting.
Former vice president Annette Lu (呂秀蓮) yesterday also questioned Ma's suggestion, saying it may be another step toward unification.
"When [Chinese emperor] Qin Shihuang [秦始皇] established his empire, one of the first things he did was to unify the writing system," Lu said.
If Ma is a supporter of using traditional characters as he says, "why didn't he encourage users of simplified characters to learn to use traditional characters instead?" she said.
KMT Legislator Lu Shiow-yen (盧秀燕) yesterday asked Mainland Affairs Council Chairwoman Lai Shin-yuan (賴幸媛) to find out exactly what Ma meant because officials had given her inconsistent answers.
"It seems Ma has not been very successful in encouraging Chinese to do what he wants them to do. Instead, he has been creating confusion at home," she said during a meeting of the legislature's International Administration Committee yesterday.
"It is a bad time to make such a proposal because it heightens ideological confrontation and only makes things more complicated," she said.
KMT caucus deputy secretary-general Lu Hsueh-chang (呂學樟) yesterday said he also thought it was unnecessary for Taiwanese to use simplified Chinese.
However, he dismissed the DPP's criticism that Ma's proposal was meant to promote unification with China.
"The president is hoping that Chinese would gain a better understanding of traditional culture," Lu said. "This is a very good suggestion and will enhance everyone's understanding of Chinese characters."
Cabinet Spokesman Su Jun-pin (蘇俊賓) said yesterday that the Executive Yuan was not aware that traditional Chinese characters would be replaced with simplified Chinese, adding that the administration does not have a policy in place to make the changes.
Traditional Chinese characters are an important asset to preserve the nation's cultural heritage and the government values this advantage, Su said.
Asked for comment, Chang Hsiao-feng (張曉風), a renowned writer who in recent years has been promoting Chinese writing, said she thought it was unnecessary to require people to write in simplified Chinese.
Meanwhile, the Presidential Office defended Ma, saying his proposal was targeted at Chinese, who he thought should be able to read traditional Chinese characters in addition to writing in simplified Chinese.
The Presidential Office issued a statement saying Ma hoped to see Chinese read traditional Chinese so they could appreciate this unique feature of Chinese culture and see traditional Chinese characters in print form.
It is unnecessary to promote traditional Chinese in Taiwan because all Taiwanese read traditional Chinese, the statement said, nor was it necessary to teach simplified Chinese here, although the government would not ban people from using simplified Chinese, the statement said.
ADDITIONAL REPORTING BY FLORA WANG, SHIH HSIU-CHUAN AND LOA IOK-SIN
Comments will be moderated. Keep comments relevant to the article. Remarks containing abusive and obscene language, personal attacks of any kind or promotion will be removed and the user banned. Final decision will be at the discretion of the Taipei Times.