Krugman, Cabinet officials discuss healthcare system
Nobel Prize-winning economist Paul Krugman held a lunch meeting with Vice Premier Paul Chiu (邱正雄) and senior officials at the Executive Yuan, exchanging ideas on the national health insurance system, fiscal and economic issues.
The 90-minute lunch meeting was closed to media.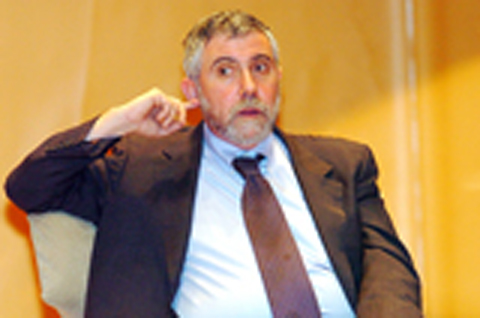 Nobel laureate in economics Paul Krugman speaks at a forum in Taipei on Thursday.
PHOTO: CHIEN JUNG-FONG, TAIPEI TIMES
TAXES
An official with the Government Information Office quoted Krugman as saying that raising value-added taxes or adopting other tax measures that are politically acceptable might be a solution to the dire financial problems facing Taiwan's national health insurance system.
The official, who attended the discussion, asked to remain anonymous as he was not authorized to speak to the press.
Prior to the lunch meeting, Department of Health Minister Yeh Ching-chuan (葉金川) gave Krugman a briefing on Taiwan's national health insurance system.
SUCCESS
Yeh quoted Krugman as saying he wished to learn from Taiwan's experience in implementing the compulsory comprehensive national healthcare system, which he said was recognized worldwide for its success in improving the nation's health.
Meanwhile, Cabinet officials asked the Nobel laureate for his opinion on potential solutions to the national health system's fund shortage problems.
The deficit in the national health insurance system was a problem common to every country, not only Taiwan, Yeh quoted Krugman as saying.
EXPENDITURE
"The national insurance system should be supported by various resources and the government should expand its income bases. But Taiwan did not expand the income bases of the system by raising the premium," the anonymous official quoted Krugman as saying.
The official said Krugman thought that expenditure for Taiwan's national health insurance system was still low, and would only be considered too high when it reached 16 percent, as it is in the US.
Comments will be moderated. Keep comments relevant to the article. Remarks containing abusive and obscene language, personal attacks of any kind or promotion will be removed and the user banned. Final decision will be at the discretion of the Taipei Times.