FEATURE: Professor leads task to protect Formosan black bears
Often called "Taiwan's Jane Goodall," Hwang Mei-hsiu (黃美秀) prefers the more modest "bear mother," a rough translation of the nickname ali duma given to her by Bunun Aborigines.
For more than a decade, Hwang, an assistant professor at National Pingtung University of Science and Technology, has devoted herself to studying and helping Taiwan understand one of its national symbols — the Formosan black bear.
Despite her efforts, this symbol — voted the nation's most representative wildlife species in a 2001 poll — could one day disappear from its native land if poaching, habitat encroachment and government and public indifference continue.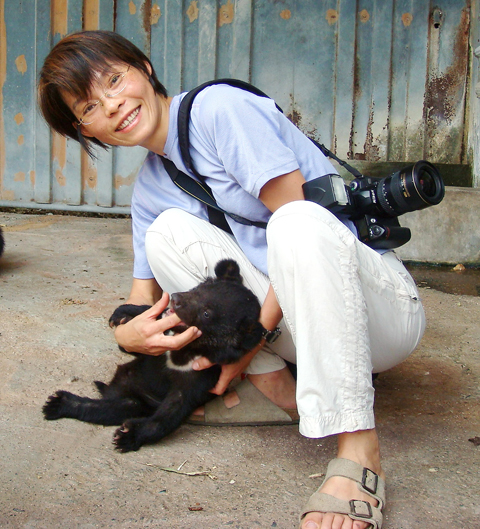 Hwang Mei-hsiu, an assistant professor at National Pingtung University of Science and Technology, is pictured with a three-month-old Formosan black bear on April 30.
PHOTO: CNA
It is an outcome Hwang is determined to prevent.
"We should do something quickly and urgently to turn around the bear's prospects. Otherwise, its fate will be sealed," Hwang said in a recent interview.
There are no clear figures on how many Formosan black bears remain in the wild because they live in remote mountain areas that are hard to reach. They are also intelligent and elusive animals, making them difficult to track.
But there is no doubt that their numbers are dwindling, Hwang said, citing Forestry Bureau surveys and discussions with Aboriginal hunters, who report fewer sightings.
Records show that the bears roamed in low-altitude areas during the Japanese occupation of Taiwan fom 1895 to 1945, but Aboriginal hunters tell Hwang that the bears, listed as an endangered species following the enactment of the Wildlife Protection Act (野生動物保育法) in 1989, have now disappeared from traditional hunting grounds, possibly having fled to higher altitudes.
Hwang estimates the number of black bears remaining in the country at between 200 and 700, far below the count of at least 2,000 that conservationists generally consider as a healthy number for large mammal species.
"The number of Formosan black bears has fallen mainly because of overexploitation and habitat encroachment," Hwang said.
Poaching remains a serious problem, as evidenced by the continued use of wire snares and jaw traps to catch the bears, Hwang said.
Hwang made a name for herself with her study of the bears at Dafen, at an elevation of 1,350m, in Yushan National Park, from 1998 through 2000 and now visits the site frequently.
Eight out of the 15 bears she and her team of volunteers found at Yushan National Park in the late 1990s were either pawless or toeless, as the bears had bitten off their extremities or lost them after being snared in traps.
She is also concerned that the bear's elusiveness may be their undoing. The public is more interested in more visible endangered animals, such as the Formosan landlocked salmon, green turtle, or the fairy pitta bird, she said.
"The average person has no chance of encountering Formosan black bears because the animals live in remote mountainous areas and are rare and shy," Hwang said. "But just because you haven't seen one doesn't mean it does not exist."
The government needs to get more involved if the Formosan black bear is to have a future, Hwang said, criticizing the efforts of past and present administrations as "slow and limited."
"The government has not really addressed the issue squarely, so it has never come up with a systematic and long-term plan. It has shown a lack of commitment to resolve the complicated questions involved in conservation efforts," Hwang said.
One sign of the government's limited commitment is the NT$18 million (US$540,000) it has spent on conservation of the species over the past five years. The fund largely went to raising animals in captivity and was lower than what is provided to protect more visible endangered species. Unlike financial support for other endangered animals, funding for the work of Hwang's team — the only group researching Formosan black bears in the wild — is frequently interrupted because of bureaucratic vagaries.
The law needs to support a long-term recovery plan with matching funds to maintain a sustainable bear population, Hwang said.
Hwang earned the respect of the Bunun because she was seen as "a woman who always lives in the mountains and takes care of the Formosan black bear."
Her study has provided long-sought baseline information on bears in the wild, including their seasonal movements, the range of their activities and the food they consume, especially acorns, the fruit of the ring-cupped oak.
Although many people mistakenly believe bears are carnivorous, they are actually mainly herbivores, Hwang said.
Her research in the late 1990s for her doctoral studies at the University of Minnesota made Hwang realize how important a steady flow of resources is to tracking the animal.
"It takes a lot of time, money and people to do the job," Hwang said, when asked why she has not caught a bear since her return from the US in 2003, despite monthly trips to Dafen.
To ensure that conservation efforts continue and become more effective, Hwang is preparing a 10-year, NT$200 million proposal for government financing for her team's long-term bear tracking activities and to expand public education campaigns.
Tracking the bears requires funding, training and a lot of effort, as Hwang learned during her research in the mountains in the late 1990s.
She and her team had to carry heavy backpacks and walk three days from the trailhead to Dafen. Although the distance is only 40km, they had to navigate very steep hills, cross old suspension bridges and hack their way through thick forest growth with machetes.
Laborious preparation work goes into setting up the team's harmless traps. Team members have to endure long and frequently fruitless periods waiting for the animals and then release them.
Although working conditions at Dafen station — which Hwang's team set up — have improved, with solar panels for electricity, Hwang or her students still need to hike to Dafen every month to monitor the infrared camera and check traps for bear hair.
The hairs are then used for DNA analysis to develop estimates of the bears' population.
Over the years, Hwang has devoted much of her time to educating the public about the importance of protecting the animals. She has given more than 100 speeches around the country since 2003.
One of the central themes of her speeches is to dispel old Chinese beliefs that could be harmful to the bears. A 16th century Chinese herbalist manual — Ben Cao Gang Mu (本草綱目) — teaches that every part of the bear, whether it is the gall bladder, fat, meat, or blood, is useful as medicine. Bear paws also have long been regarded as a culinary delicacy.
Yang Chieh-chung (楊吉宗), deputy director of the Council of Agriculture's Endemic Species Research Institute, which has worked closely with Hwang on research on Formosan black bears in captivity, agreed with Hwang on the challenges the nation faces in protecting the animals.
"Aside from limited funding, finding researchers is not easy because of the hardship involved. Long-term observation also means they can't obtain tangible results as quickly as they want," Yang said.
Among the findings by the researchers is that the animal snaps wild silver grass stalks or any other available materials to make a comfortable resting place for itself — a unique trait compared to other bear species. Formosan black bears also do not hibernate.
Hwang, Yang and others hope to continue to learn more about the bears to raise public awareness and ultimately save the bears from extinction.
"If the Formosan black bear continues to be ignored, it could end up facing the same fate as the clouded leopard and the river otter," Hwang said, referring to two other animals thought to be extinct in Taiwan.
Comments will be moderated. Keep comments relevant to the article. Remarks containing abusive and obscene language, personal attacks of any kind or promotion will be removed and the user banned. Final decision will be at the discretion of the Taipei Times.