Group pans legislators for abusive conduct
OUT OF BOUNDS The Citizens Congress Watch said the altercation on Wednesday was just one of six major cases of lawmakers overstepping their bounds
In reaction to a series of recent misdemeanors by lawmakers — including physical and verbal clashes that occurred on Wednesday — lobby group Citizens Congress Watch (CCW) yesterday called on the legislature to set up a Gender Equality Committee and strengthen the role of the Disciplinary Committee.
"The incident yesterday [Wednesday], in which Chinese Nationalist Party [KMT] Legislator Lee Ching-hua [李慶華] verbally abused Democratic Progressive Party Legislator Chiu Yi-ying [邱議瑩] that resulted in Chiu slapping him, was not an isolated incident," CCW executive director Ho Tsung-hsun (何宗勳) said as the group demonstrated outside the legislature. "It was one of what we consider six major cases of legislators overstepping their bounds since this legislature was inaugurated [in February last year]."
The other incidents included one in which KMT Legislator Kuo Su-chun (郭素春) said that the birth rate was too high among lower class people and that their children would only end up homeless. In another, KMT Legislator Lu Chia-chen (盧嘉辰) said that the only way to make Chiu happy was to get her a husband.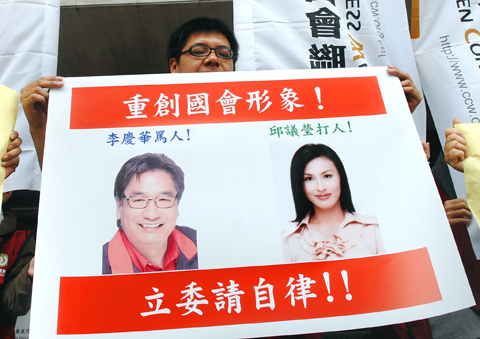 A Citizens Congress Watch representative yesterday shows photos of Chinese Nationalist Party (KMT) Legislator Lee Ching-hua, left, and Democratic Progressive Party Legislator Chiu Yi-ying at a press conference outside the Legislative Yuan, calling on all legislators to behave themselves.
PHOTO: CNA
"I'm very disappointed with the lawmakers we elected — they need to work harder not only at their jobs, but also to watch what they say and improve their sense of gender equality," said Kao Ru-ping (高如萍), deputy ­secretary-general of the National Association for the Promotion of Community Universities.
To keep lawmakers from ­misbehaving, CCW chairman Ku Chung-hwa (顧忠華) suggested that the legislature create a Gender Equality Committee, strengthen the role of the Disciplinary Committee and reconsider lawmakers' immunity from legal action over what they say in legislative sessions.
"The Disciplinary Committee is often in the hands of the majority party — the rules should be revised so that no party can hold more than 50 percent of the seats on the committee so that it can operate more fairly," Ku said. "There were reasons at the time when lawmakers were granted immunity for what they say during legislative meetings — I think it's already time to reconsider the application of that immunity."
In related news, Chiu yesterday continued to lambaste the Chinese Nationalist Party (KMT) for its "verbal violence" following Wednesday's altercation.
"The KMT, along with some pro-unification media, are conducting a massive smear campaign to make me look like the 'Queen Bee of the Mafia,' but anyone that knows me knows I am not that kind of person," she said.
Chiu said sometimes verbal abuse could cause more damage than physical assault.
She also panned accusations from the KMT that she used her beauty to advance her political career.
"Do I have a choice what kind of face I have?" she said, adding the matter was no longer an issue in her opinion, but she would reserve the right to pursue legal action.
Additional reporting by Jenny W. Hsu
Comments will be moderated. Keep comments relevant to the article. Remarks containing abusive and obscene language, personal attacks of any kind or promotion will be removed and the user banned. Final decision will be at the discretion of the Taipei Times.