FEATURE : Tainan factory promotes 'green' design
Imagine an electronics plant that is surrounded by tree frogs and egrets, recycles its own electricity and turns the air conditioning off for four months a year.
The plant is Delta Electronics Inc's (台達電子) Southern Taiwan Science Park building, and it was the nation's first to gain gold certification in the factory-office category from the US Green Building Council.
The plant received the council's Leadership in Energy and Environmental Design (LEED) green building rating in 2006.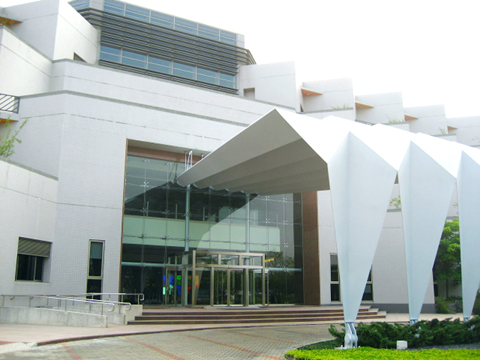 The entrance to the Delta factory and office building in the Southern Taiwan Science Park is pictured last week. The building keeps carbon emissions and utility bills down with its energy-efficient design.
PHOTO: MEGGIE LU, TAIPEI TIMES
"The building may not look impressive at first, but walk through it and you'll notice many hidden qualities that are innovative and conserve energy," Delta senior director of corporate communications Jesse Chou (周志宏) said last week in Tainan.
But even on the outside the factory is unusual. The exterior looks more like a resort, resembling a multi-layered cake with a flashy metal canopy at the front entrance that looks like a work of origami.
The design serves several purposes, Chou said.
"The multi-layered construction deflects sunshine that would directly enter the factory so that we can save on air-conditioning costs. Also, on each layer we can plant several trees to provide even more shade," he said.
The metal canopy is made of an aluminum alloy; apart from its aesthetic appeal, it fends off strong winds in the winter, he said.
At either side of the factory, ponds thrive with indigenous flora and fauna. Look and listen carefully and one notices tree frogs and other creatures singing on the lotus leaves.
"Every year, more than 10,000 birds and 1.2 million insects make the eco-ponds their permanent or temporary homes," Chou said.
In addition to a carefully designed exterior, the concrete used in the building is "green," Chou said, as 30 percent of it is produced from scrap from steel plants.
"This is beneficial in multiple ways: Not only is it cheaper, it is lighter and 2.4 times stronger. It utilizes what would otherwise be waste and the concrete industry actually emits a lot of carbon dioxide, so using metal scraps in the concrete reduces our plant's carbon footprint," he said.
Moving into the building, the first thing that greets employees and visitors in the lobby is a spiral staircase.
"We intentionally put the staircase up front and hid the elevators in a corner so that more people would take the stairs," Chou said.
The 10m high lobby also features ventilation windows at the top.
"Since hot air naturally rises, we can again save on air conditioning costs," Chou said.
In fact, the entire building uses the principles of physics to help keep off the air-conditioning between November and March each year, he said.
The benefits of the ventilation system can best be observed in the factory's basement parking lot, which regularly has between 200 and 300 cars inside but has an air-regulation system that has never once been turned on, Chou said.
"With 'sky wells' [vents that open part of the basement to exposure of ground level air and sunlight] along either side of the parking lot, air in the parking lot is smoothly exchanged with cool and clean air outside; the sky wells also mean the parking lot is partially lit by natural light," Chou said.
Although an air regulation system was installed and would automatically switch on if the carbon monoxide level in the basement exceeded 10 parts per million, for the three years that the plant has been open, the system has remained idle, he said.
In addition to energy conservation, the Delta plant has a rainwater collection system that saves up to 50 percent of the factory's water needs.
"The rainwater is filtered and then used to flush toilets or to water the plants; our garden watering system automatically shuts down when sensors detect that precipitation exceeds 3mm that day," Chou said.
The factory's design not only makes it eco-friendly, it keeps the utility bills down.
"The construction costs were about 10 percent more than a regular factory, but that extra cost is quickly recouped, as the building uses 31 percent less electricity and 50 percent less water than a regular building," Chou said.
Delta makes alternative energy and energy-saving equipment, Chou said, adding that the mission of Delta is to provide technology that is sustainable and healthy.
For example, the Kaohsiung 2009 World Games stadium features 8,844 solar panels made by Delta, which are capable of generating 1.14 million kilowatt hours of electricity annually and is the largest solar powered construction in Taiwan to date, Chou said.
"On average, the stadium generates 3,200 kilowatt hours of electricity per day, which could power 700 to 800 households. When the stadium is not in use, the electricity can be sent to the city's power grid to supply residents and offices," he said.
In addition, the company's systems for switching power supplies between alternate current, which come out of power outlets, and direct current, which electronic appliances consume, also reduces carbon emissions, Chou said.
At an information forum held by Intel and Google, experts said that by boosting power supply switching from 60 percent to 90 percent, 400 billion kilowatt hours of electricity can be saved per 100 million computers if they operate for eight hours a day for three years, Chou said.
"That is the equivalent of the output of 11 coal-fired power plants the size of Linkou," he said.
By producing 180 million power-supply switching units annually, Delta is helping create a greener world, he said.
Delta's contribution to the environment does not stop at selling green products and designing green buildings.
When nearby Taiwan Semiconductor Manufacturing Company (台積電, TSMC) was drawing up blueprints for its new factory, Delta's green construction team gave it a lot of advice.
Last August, TSMC's Plant 14 Phase 3 became Taiwan's first recipient of the LEED gold certification in the factory category.
This year, the plant also became the first factory to receive the Ministry of the Interior's Architecture and Building Research Institute diamond-level certification.
"We sought a lot of advice from the Delta team. The important thing is, now that we have gathered so much experience in building green factories, how do we pass this on to other companies?" said TSMC's director of new fab's planning and engineering division, Arthur Chuang (莊子壽).
And the green trend is being noticed by the Southern Taiwan Science Park authorities.
In a press conference last week, park director Chen Chun-wei (陳俊偉) said his ambition was to make the park the first LEED-certified science park within two years.
New buildings in the park will need to be constructed in the most environmentally friendly manner possible, Chen said, and those with construction budgets of more than NT$50 million (US$1.5 million) will need at least to meet the LEED's lowest certification level.
The park will also work on attracting green technology plants such as solar panel firms, he said.
"The LEED rating system currently does not have guidelines for science parks. This is a huge challenge, but we want to work toward that goal," Chan said.
Chan said that this development was vital for high-tech industries and would become the trend.
"We all know that the current economic crisis will one day pass; what will remain afterwards is prospering green technologies," he said.
Comments will be moderated. Keep comments relevant to the article. Remarks containing abusive and obscene language, personal attacks of any kind or promotion will be removed and the user banned. Final decision will be at the discretion of the Taipei Times.