Artificial wetlands are great outdoor destinations: EPA
With spring approaching, the Environmental Protection Administration (EPA) is encouraging people to enjoy the warm weather at any of the nation's 43 artificial wetlands, adding that by doing so, visitors will have an opportunity to get close to rivers and see first-hand what wetland ecosystems have to offer.
"Before the country's sewage system is complete, artificial wetlands and treatment plants are transitional methods to clean up wastewater before it flows into rivers," said Shieh Ping-fei (謝炳輝), the administration's senior officer at the department of water quality protection.
At present, the national sewage system only connects to 19.5 percent of homes, he said.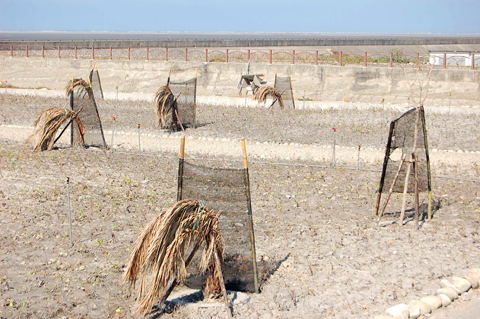 Saplings planted as part of a NT$4 million beautification scheme near the beach at Kaomei wetland in Taichung County appear to be dying, but a county government spokesperson said yesterday that they are dormant and will become verdant in spring.
PHOTO: OU SU-MEI, TAIPEI TIMES
In the past seven years, the EPA spent NT$660 million (US$17.7 million) creating 43 artificial wetlands, which "process a total of 230,000 tonnes of wastewater a day, all of which is domestic," Shieh said.
A wastewater treatment plant would be much more efficient — for example, the Bali Water Treatment Plant in Taipei County alone has a capacity of 1.32 million tonnes of wastewater a day — Shieh said, but wetlands have some features that treatment plants do not.
"Wetlands purify organic pollutants found in wastewater via a natural process, in which plants and microorganisms absorb nutrients from the wastewater," he said.
Wetlands play a role in environmental restoration and serve as a habitat for many life forms, he said.
"In Taipei County's Daniaopi (打鳥埤) Artificial Wetland, for example, we recently spotted painted snipes, magpies and brown shrikes, all of which are protected bird species," Shieh said.
The wetland used to be a landfill, Shieh said, adding that it now processes 11,000 tonnes of wastewater before it flows into the Dahan River (大漢溪).
Other wetlands, including the nation's latest — Kaohsiung County's 120-hectare Old Steel Bridge Artificial Wetland (舊鐵橋) — host Taiwanese pheasant-tailed jacanas, also a protected species.
Regarding the future of wetlands, Shieh said that in addition to government efforts, the administration would seek assistance from local communities.
"More than 200 volunteers are helping maintain the Old Steel Bridge Wetland," he said. "Wetlands are not only good for insects, birds and fish, they are also very good outdoor destinations during holidays."
Comments will be moderated. Keep comments relevant to the article. Remarks containing abusive and obscene language, personal attacks of any kind or promotion will be removed and the user banned. Final decision will be at the discretion of the Taipei Times.