Civic groups hold protest over lawsuit against CCW
Dozens of civic group members yesterday rallied outside the Taipei District Court as prosecutors questioned Citizen Congress Watch (CCW) executive director Ho Tsung-hsun (何宗勳) about a slander lawsuit filed by Chinese Nationalist Party (KMT) Legislator Tsai Chin-lung (蔡錦隆).
"We condemn lawmakers who file lawsuits against watchdog groups. Instead, they should face public scrutiny with honesty," National Union of Taiwan Women's Associations chairwoman Chen Man-li (陳曼麗) told demonstrators outside the courthouse yesterday morning.
"We urge Tsai to withdraw the lawsuit. You may have ranked last [in CCW's evaluation of lawmakers], but you won't stay there if you work hard enough," Chen said.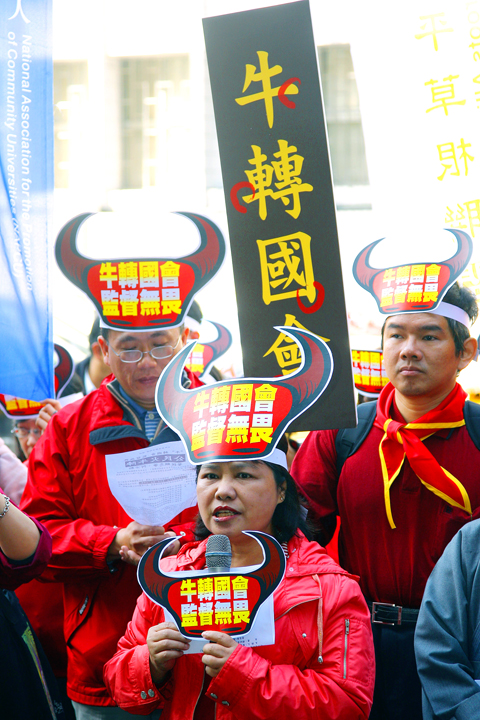 Civic groups rally outside the Taipei District Court yesterday to condemn lawmakers for filing a lawsuit against watchdog groups after Ho Tsung-hsun, executive director of Citizen Congress Watch, was questioned by prosecutors in a lawsuit filed by Chinese Nationalist Party (KMT) Legislator Tsai Chin-lung.
PHOTO: CNA
EVALUATION
The CCW held the first evaluation of lawmakers in August, in which more than 100 people including students, journalists, academics and representatives from civic groups assigned scores to lawmakers by reviewing their attendance, number of legislative proposals and misconduct.
Tsai filed a slander lawsuit against Ho and CCW chairman Ku Chung-hwa (顧忠華) after he was ranked last among legislators in the Internal Administration Committee. Tsai has accused the CCW of bias and said the evaluation was not transparent.
PRECEDENTS
This was not the first time Ho and Ku have been sued by lawmakers.
In July, the two were sued by KMT Legislator Chen Ken-te (陳根德) for slander, when the CCW made a mistake regarding Chen Ken-te's attendance record because the legislature did not release information about a classified meeting he had attended.
They were not indicted.
In September, Chiu Yi (邱毅) sued Ho and Ku after being awarded the lowest ranking in the CCW's evaluation. The CCW later established that a miscalculation had been made during the evaluation and apologized to Chiu, whereupon he withdrew the lawsuit.
Despite the lawsuits, the CCW and its supporters remain determined to monitor the legislature.
"In a legislature where one party has absolute majority, it's hard to imagine what it would be like if there were no watchdog organizations such as the CCW. It reminds the lawmakers who their bosses are," Buddhist Master Shih Chao-hui (釋昭慧) said yesterday, adding that the lawsuits were a waste of resources in the judiciary.
"Lawmakers who receive the lowest rankings should just step down," she said.
Before walking into the courthouse, Ho told the crowd that Tsai had made many negative comments about the CCW.
"I think we should be the ones who are suing for defamation," Ho said.
Despite the protest, Tsai declined to drop the lawsuit.
"The CCW's evaluation and its neutrality are questionable. Therefore, I will not withdraw the lawsuit," he said.
ADDITIONAL REPORTING BY FLORA WANG
Comments will be moderated. Keep comments relevant to the article. Remarks containing abusive and obscene language, personal attacks of any kind or promotion will be removed and the user banned. Final decision will be at the discretion of the Taipei Times.