Protesters complain of 'underestimated' national debt
Concerned that efforts to stimulate the economy will only increase the national debt, the Alliance for Fair Tax Reform (AFTR) created a "human national debt clock" on Ketagalan Boulevard in front of the Presidential Office yesterday.
Wearing purple T-shirts with numbers written on their backs, AFTR members lined up at the intersection of Ketagalan Boulevard and Gongyuan Road, together spelling out "13,800,000,000,000" — or NT$13.8 trillion (US$390 billion).
"This number represents Taiwan's actual national debt — on average, each one of the country's 23 million citizens has to shoulder about NT$600,000 of it," spokesman Chien Hsi-chieh told reporters.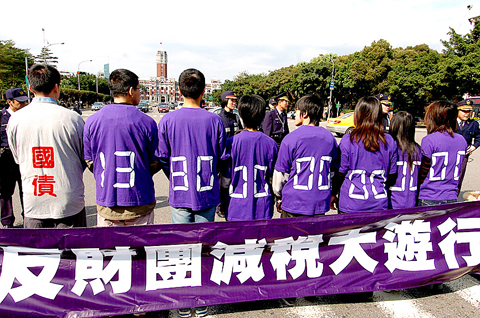 Members of the Alliance for Tax Reform protest on the corner of Ketagalan Boulevard and Gongyuan Road in Taipei yesterday.
PHOTO: CHU PEI-HSIUNG, TAIPEI TIMES
While figures released by the Ministry of Finance earlier this month showed the current national debt to be NT$4.3 billion, AFTR member Son Yu-lian (孫友聯) said that the number was inaccurate as many "hidden debts" were not accounted for in the official figure.
"The government should deal with our national debt honestly. They need to stop tax reforms that benefit large corporations and refrain from making policies that will only make the situation worse," Chien said. "We don't want our children and grandchildren to be born into debt."
Alliance members said they were concerned that the government's policy direction would make the situation worse.
Since President Ma Ying-jeou (馬英九) took office, the government has increased the national debt with several projects, including plans to expand domestic consumption and the i-Taiwan construction projects. The recent consumer vouchers policy — which will require another NT$80 billion in public debt — is only the latest addition, Son said.
"With the NT$400 billion 'economic stimulation' program on the way, the Ma government has already added more than NT$726 billion to our national debt," he said.
The AFTR urged the government to hang a real national debt clock outside the Presidential Office, "so that every person can see how seriously we're in debt," a press statement said.
Comments will be moderated. Keep comments relevant to the article. Remarks containing abusive and obscene language, personal attacks of any kind or promotion will be removed and the user banned. Final decision will be at the discretion of the Taipei Times.