Wang and Tsai fail to resolve spat
Chinese Nationalist Party (KMT) Legislative Speaker Wang Jin-pyng (王金平) and Democratic Progressive Party (DPP) Chairwoman Tsai Ing-wen's (蔡英文) efforts to resolve a conflict between KMT Legislator Hung Hsiu-chu (洪秀柱) and DPP Legislator Kuan Bi-ling (管碧玲) seemingly failed yesterday when Kuan failed to show up and apologize to Hung as arranged.
Kuan slapped Hung across the face on Wednesday after Hung had poked Kuan's assistant in the eye when pushing away a poster during the Education and Culture Committee's preliminary review of the budget for the National Science Council.
"We arranged this meeting to resolve yesterday's [Wednesday's] conflict. Therefore, I informed Legislator Hung about it, but Legislator Kuan still did not show up," Wang said at his office after he and Tsai had waited for the two lawmakers to make peace.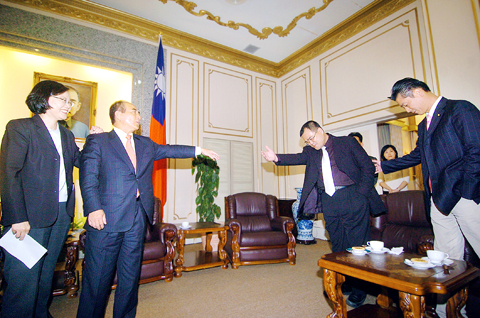 Chinese Nationalist Party (KMT) caucus whips Lin Yi-shih, second right, and Chang Sho-wen, right, refuse to have their photos taken with with KMT Legislative Speaker Wang Jin-pyng and Democratic Progressive Party Chairwoman Tsai Ing-wen in Taipei yesterday after Tsai refused to apologize for a DPP legislator's assault on a KMT legislator.
PHOTO: FANG PIN-CHAO, TAIPEI TIMES
"We have failed to achieve what the meeting was meant to achieve," he said.
Tsai, who was also to have attended the meeting, told Wang that she had called Hung and Kuan yesterday morning and "could feel both sides' sincerity in resolving the matter."
Tsai also urged Wang to help negotiate and amend legislative regulations on the threshold required to initiate proposals in legislative committees.
Wednesday's altercation took place when three DPP legislators were boycotting the preliminary review. They wanted to propose the NSC's budget request be cut, but their initiative was unable to make it onto the committee's agenda because they needed the support of one more legislator. The DPP only occupies three seats on the committee.
However, Wang said negotiating the threshold would not be possible unless the conflict between Hung and Kuan was resolved.
By slapping Hung in the face Kuan had harmed the image of the Legislative Yuan, Wang said.
When asked for comment later yesterday, Kuan said she would not apologize to Hung unless Hung apologized to Kuan's assistant first.
Comments will be moderated. Keep comments relevant to the article. Remarks containing abusive and obscene language, personal attacks of any kind or promotion will be removed and the user banned. Final decision will be at the discretion of the Taipei Times.