Ma-Tsai meeting: maybe later, DPP says
The Democratic Progressive Party (DPP) yesterday said that the timing and atmosphere was not right for party chairwoman Tsai Ing-wen (蔡英文) to meet President Ma Ying-jeou (馬英九).
DPP Spokesman Cheng Wen-tsang (鄭文燦) told reporters that they had not received any invitation from Ma and that they did not learn that an invitation had been issued until they saw the newspapers yesterday.
"It is not a good way to invite somebody," Cheng said. "I don't have anything to add until we receive the invitation."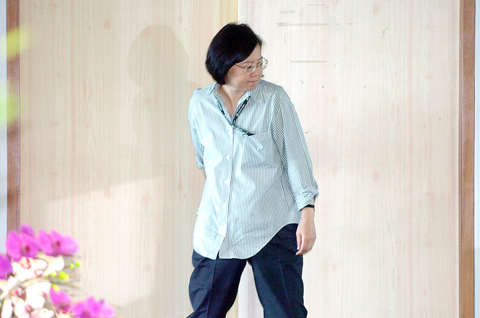 Democratic Progressive Party Chairwoman Tsai Ing-wen leaves a closed-door meeting with party officials yesterday at which they discussed matters of national security, consumption and quarantine measures following an expected influx of Chinese tourists next month.
PHOTO: GEORGE TSORNG, TAIPEI TIMES
Cheng said the timing and atmosphere were not suitable for a meeting and that Ma should spend more time managing urgent affairs.
Cheng was responding to a story in yesterday's edition of the Chinese-language United Daily News, which said that Ma was planning to invite Tsai and opposition lawmakers to the Presidential Office in the near future in a bid to improve interaction with opposition parties.
Presidential Office Spokesman Wang Yu-chi (王郁琦) yesterday confirmed that Ma had asked Presidential Office Secretary-General Chan Chun-po (詹春柏) to issue the invitations and they would do their best to let Tsai know that the process was sincere.
Wang said that Ma and Tsai had both taught at National Cheng­chi University and that Ma would welcome an opportunity to exchange views with his old colleague on national affairs.
Ma is also scheduled to have dinner with Chinese Nationalist Party (KMT) Chairman Wu Poh-hsiung (吳伯雄) and other party officials at the Presidential Office tomorrow.
Wang yesterday said the meeting was organized to express Ma's appreciation for the hard work of party officials during the presidential election campaign and had nothing to do with seeking approval for the president's nominations for the Control Yuan and the Examination Yuan.
Ma met with KMT legislators on June 16 and had planned to meet DPP legislators on June 18, but the DPP legislators turned down the invitation.
Wang yesterday said that Ma hoped he could meet the different groups on a regular basis.
Comments will be moderated. Keep comments relevant to the article. Remarks containing abusive and obscene language, personal attacks of any kind or promotion will be removed and the user banned. Final decision will be at the discretion of the Taipei Times.