DPP pans cross-strait meeting
WHO'S IN CONTROL? DPP Legislator Lee Chun-yee said the agreement in Beijing on representative offices shows that the SEF is outside the control of the MAC
The Democratic Progressive Party (DPP) legislative caucus yesterday said that Taiwan was merely "cooperating" in the talks between the Straits Exchange Foundation (SEF) and the Association for Relations Across the Taiwan Strait (ARATS) in Beijing.
"It seems to me that ARATS decided the time, the location, the issues and achievements. The SEF delegation was merely 'cooperating.' It concerns me," said William Lai (賴清德), DPP legislative caucus whip, during a press conference.
Lai also said that SEF Chairman Chiang Pin-kung's (江丙坤) proposal that direct charter flights fly directly across the Taiwan Strait instead of traveling through Hong Kong air space concerned national security and should have been an issue decided by the related government offices.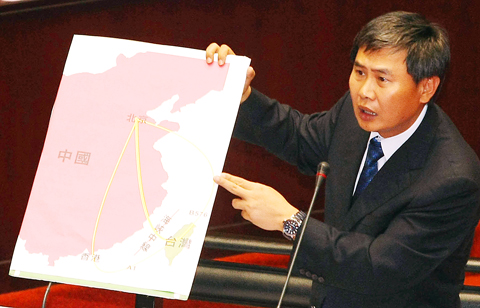 Democratic Progressive Party Legislator Lee Chun-yee holds up a map of Taiwan and China when questioning Mainland Affairs Council Chairwoman Lai Shin-yuan regarding the potential national security threat that may result from establishing direct links at the Legislative Yuan in Taipei yesterday.
PHOTO: CNA
He said the agreement that Taipei would establish a representative office in China and Beijing would establish a representative office in Taiwan had obviously not been authorized or approved by the Mainland Affairs Council (MAC) before Chiang agreed to it with the ARATS delegation.
"Chiang's surprise agreement on these issues was totally inappropriate. If he is going to be Taiwan's representative in talks with China, things like this must be avoided," Lai said.
DPP Legislator Lee Chun-yee (李俊毅) said that Chiang's decision to discuss issues that were not authorized or approved by the MAC in advance showed that there was something wrong in the communications between the SEF and the MAC.
"The SEF is supposed to carry out and enforce policies decided on by the MAC. It is obvious that the MAC does not control the SEF," Lee said.
Meanwhile, MAC Chairwoman Lai Shin-yuan (賴幸媛) dismissed legislators' concerns that the SEF had exceeded its authority in talking about the establishment of representative offices.
During a question and answer session with Chinese Nationalist Party (KMT) Legislator Ho Tsai-feng (侯彩鳳), Lai said the SEF was authorized to negotiate weekend direct charter flights and Chinese tourists with its Chinese counterpart.
One of the SEF's missions during the trip was to "talk about" issues both sides of the Taiwan Strait were concerned about.
"This [establishment of the offices] fell under the category of dialogue and did not concern the matter of authorization," she said.
Lai was bombarded with questions from legislators across party lines regarding media reports yesterday that said the SEF had agreed to the proposal to set up permanent representative offices.
The agreement came on the first day of talks between the two organizations.
Xinhua news agency cited SEF Secretary-General Pang Chien-kuo (龐建國) on Thursday as saying that the offices could perform some consular functions because they would "facilitate exchanges and people traveling across the Strait."
In related news, several pro-independence groups said yesterday in response to the signing of an agreement on increasing the numbers of tourists from China that Taiwan should not focus only on attracting Chinese tourists and overlook the consequences that could result from such a policy.
"Chinese tourists are not the only option and they are certainly not the best choice," said Chang Shyue-Yih (張學逸), director of the Northern Taiwan Society, at a news conference convened with the Taiwan Hakka Society, the Taiwan YouthPower Society, Taiwan Young Intellectuals and the Taiwan Association of University Professors.
Chang said Taiwan should not be so "meek and timid" and should not make concessions on the nation's sovereignty in order to fulfill President Ma Ying-jeou's (馬英九) campaign promises.
Issues such as quarantine procedures, environmental hygiene and public security should not be overlooked, as these areas might be compromised with an influx of large numbers of Chinese tourists, Chang said.
"Frequent charter flights and large numbers of Chinese tourists will be accompanied by quarantine and epidemic prevention problems," said Chang Yeh-shen (張葉森), director of the Taiwan Hakka Society.
He said the outbreak of SARS in 2003 was a lesson that should not be forgotten.
China was severely criticized for covering up its case numbers and its secretive handling of the outbreak, which resulted in the spread of the epidemic and caused a global panic.
Chang Yeh-hsen also expressed concern about what he claimed was the "poor behavior and bad manners" of Chinese tourists that might put off other international tourists that are bigger spenders.
He said that Disneyland in Hong Kong served as a good warning, as it was originally set to be an international theme park but now is no more than a local amusement park for a single nation because of problems with visitors from China.
"We should broaden our vision and set our target high to try and entice international tourists from advanced countries, such as in Europe and the United States," he said.
ADDITIONAL REPORTING BY CNA
Comments will be moderated. Keep comments relevant to the article. Remarks containing abusive and obscene language, personal attacks of any kind or promotion will be removed and the user banned. Final decision will be at the discretion of the Taipei Times.