Diane Lee threatens to sue 'Next' for citizenship story
Chinese Nationalist Party (KMT) Legislator Diane Lee (李慶安) threatened to sue Chinese-language Next Magazine yesterday following allegations that the government had received a response from the US proving she still had US citizenship.
Lee reiterated that she had lost her US citizenship after she returned to Taiwan to serve as a public official.
"The content [of the story] was completely false. It was a fabrication. It has seriously confused the public. As a result, I will file a lawsuit," she told reporters.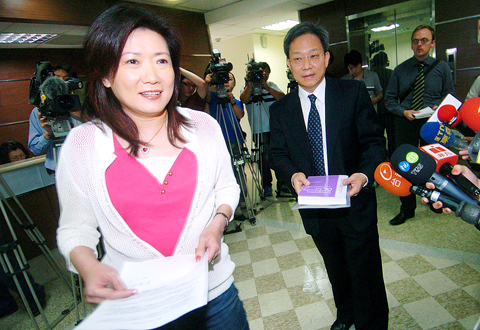 Chinese Nationalist Party (KMT) Legislator Diane Lee tells a press conference yesterday that she had lost her US citizenship when she returned to Taiwan to serve as a public official.
PHOTO: CHANG CHIA-MING, TAIPEI TIMES
Lee's lawyer Chang Yuan-hsiao (張元宵) said Section 349(A)(4) of the US Immigration and Nationality Act would prove Lee's claim because a US citizen loses his or her citizenship if he or she serves as a public official in another country or takes an oath of allegiance to another country in relation to a government post.
The latest edition of Next — which hit newsstands yesterday — claimed the Ministry of Foreign Affairs had received confirmation from the US that Lee still held US citizenship.
In its March 12 edition, Next claimed Lee possessed dual citizenship, a claim she denied.
DENIAL
She said she obtained permanent residency in the US in 1985 and citizenship in 1991, but later gave up her citizenship.
Article 20 of the Nationality Law (國籍法), which took effect on June 20, 2001, states that foreign citizens are prohibited from holding government office.
The Democratic Progressive Party (DPP) caucus reported Lee's case to the Taipei Prosecutors' Office for investigation after the Next article in March.
Lee would have to return her salary as a Taipei City council from 1994 to 1998 and as a legislator since 1998 — estimated at NT$100 million (US$3.2 million) — if the allegation is true.
She would also lose her job as a legislator, forcing a by-election in Taipei City's sixth district.
KMT caucus deputy secretary-general Chang Hsien-yao (張顯耀) said the caucus' attitude toward the issue is clear, it would handle the matter according to the law.
KMT Legislator John Chiang (蔣孝嚴) urged the party to resolve the issue and nominate a candidate for the by-election as soon as possible.
Legislative Speaker Wang Jin-pyng (王金平) said that the legislature was still waiting for the results of the judicial investigation into Lee's nationality status.
Wang, a KMT member, vowed to handle the results according to the law and rebuffed media speculation that he would not act impartially.
KMT'S POSITION
KMT Chairman Wu Poh-hsiung (吳伯雄) said Lee had told him that she had cancelled her US citizenship and he trusted her word.
Wu said the KMT would respect the judicial system's decision and it did not have the authority to handle any problems concerning Lee's citizenship.
Meanwhile, the Ministry of Foreign Affairs denied it had sought help from the US to verifying Lee's status. Ministry Spokeswoman Phoebe Yeh (葉非比) said it was never asked by any government agency to approach the US about the issue.
MOFA
"We did receive a request from a particular party last week. But since the party was not authorized to deal with this issue, we did not heed the request," she said.
Democratic Progressive Party (DPP) legislators urged Wang to clear up the matter.
"We request Wang solve this problem as soon as possible. Stop trying to cover it up for the KMT," DPP deputy whip Pan Meng-an (潘孟安) said.
Another DPP deputy whip, Legislator Chiu Yi-ying (邱議瑩), said the caucus had filed a request with Wang in March to investigate Lee's nationality but Wang had ignored the request.
"President Ma Ying-jeou (馬英九) promised the public that he would strictly adhere to the law. I think it is time for him to prove it," Chiu said.
ADDITIONAL REPORTING BY JENNY W. HSU,
MO YAN-CHIH AND JIMMY CHUANG
Comments will be moderated. Keep comments relevant to the article. Remarks containing abusive and obscene language, personal attacks of any kind or promotion will be removed and the user banned. Final decision will be at the discretion of the Taipei Times.