Ma Ying-jeou pays respects to CKS
President-elect Ma Ying-jeou (馬英九) of the Chinese Nationalist Party (KMT) bowed in front of dictator Chiang Kai-shek's (蔣介石) mausoleum yesterday to commemorate the anniversary of his death, a departure from the outgoing Democratic Progressive Party (DPP) government's efforts to distance itself from the late leader.
Ma said Chiang's faults and achievements should be decided by historians, but that there was no denying he was part of the nation's past.
Ma, who will be sworn in as president on May 20, told a small group of visitors to the tomb yesterday that Chiang's legacy was an "important historical and tourism resource for Taiwan."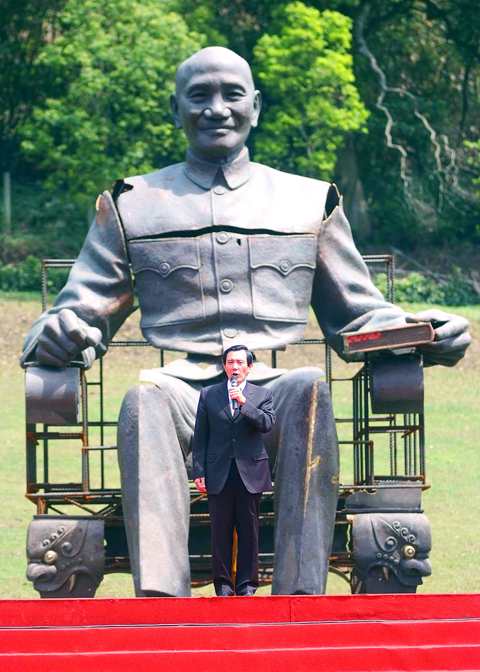 President-elect Ma Ying-jeou stands between the legs of a giant Chiang Kai-shek statue at the late dictator's mausoleum in Tzuhu in Taoyuan County yesterday.
PHOTO: CNA
The mausoleum was shut in December after the DPP said that the country should stop honoring a dictator. It also ordered Chiang's name removed from the main international airport and tore down statues of him on military bases.
ANNUAL GESTURE
Ma said on Friday that he would continue to honor Chiang in such a manner each year after he takes office on May 20.
Chiang's remains were entombed in Tzuhu (慈湖), Taoyuan County, after his death on April 5, 1975. The body of his elder son, Chiang Ching-kuo (蔣經國), who was president between 1978 and 1988, was laid to rest in Touliao (頭寮), also in Taoyuan, after he passed away on Jan.13, 1988.
Acknowledging that judgment on what the Chiangs had done for the country was open to discussion, Ma, who had served as English secretary for Chiang Ching-kuo, said that the purpose of his visit to the mausoleums was to "commemorate the deaths of the former KMT leaders" and that his act should not be interpreted as an act of "worship."
Ma said he was not very concerned about any controversy over his visit to the tombs, adding that "everyone can hold different views on history."
OPINIONS
Commenting on the DPP's renaming Chiang Kai-shek Memorial Hall as National Taiwan Democracy Hall on May 19, Ma said he was concerned about the "legitimacy" of the change.
"Your views may be different from mine, but you cannot coerce me into adhering to your opinions," said Ma, adding that public should welcome difference of opinion.
Comments will be moderated. Keep comments relevant to the article. Remarks containing abusive and obscene language, personal attacks of any kind or promotion will be removed and the user banned. Final decision will be at the discretion of the Taipei Times.