Atayal woman revives full facial tattooing tradition
A woman from the Atayal tribe in the east has had an elaborate tattoo ingrained on her face, marking the first time an Aboriginal woman in Taiwan has had her face tattooed in nearly a century.
The 33-year-old woman, Shayun Foudu, had the shape of a large "V" tattooed on her face during the weekend at a tourist resort in Taroko National Park in Hualien County.
"Facial tattooing is an old cultural tradition of the Atayal tribe. I feel very proud to have a tattoo on my face," Shayun Foudu told reporters.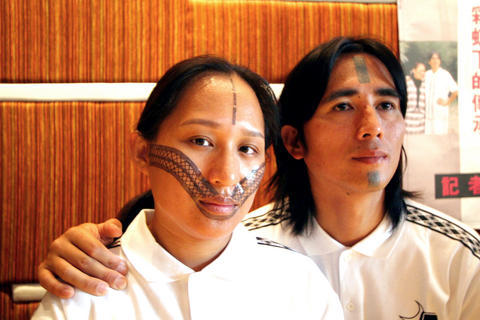 Shayun Foudu and her husband show off their facial tattoos in Hualien County yesterday.
PHOTO: CNA
Japanese colonial rulers banned the traditional custom 95 years ago, but the government does not outlaw the practice today. The custom of tattooing faces is believed to date back about 1,400 years and was practiced by several of the nation's Aboriginal tribes.
Foudu said that traditionally, Atayal women would have their faces tattooed after their first period. When a young Atayal man was marrying his young bride, the man would also have his face tattooed as a propitious sign of the couple's wish to have a long-lasting marriage, she said.
Foudu, a native of Fuhsing Township (復興), Taoyuan County, said that she and her Atayal husband both have facial tattoos and are proud to "finally have done something" to help preserve an Atayal tradition.
The tattoo artist used modern tattooing techniques to put the pigments on Foudu's face. The process took two hours. In old days, tattooing was done with needles, with ashes applied to the wounds, in a painful process.
Facial tattooing had also been a tradition of other indigenous groups, including the Amis, but Atayal tattoos are especially well-known, partly because it was widely practiced and the tattoos covered practically the entire face.
Specialists say the practice was used for several purposes, including as a way for Atayal ancestors to identify and protect later generations. Tattoos also served as marks of honor for men who were skilled in headhunting, while in women they represented the attainment of skills such as weaving.
The tradition is rapidly disappearing, however, and some Atayals are trying to record the history of face tattooing before the older generation dies.
Foudu said she hopes her and her husband's actions will help society adopt an open mind about facial tattoos.
Comments will be moderated. Keep comments relevant to the article. Remarks containing abusive and obscene language, personal attacks of any kind or promotion will be removed and the user banned. Final decision will be at the discretion of the Taipei Times.