Gambian president praises ties
Gambian President Yahya Jammeh pledged allegiance to the "Republic of Taiwan" during a military honor guard ceremony held to welcome him to Taipei yesterday.
This is Jammeh's seventh visit to Taiwan, his fifth as head of state. He said the hospitality extended to him and his delegation was a clear reflection of genuine friendship between the two countries.
"Taiwan is, to us, like our home and away from home," he said. "[My visit] is another clear indication of the excellent bonds of friendship and cooperation that have been the hallmark of our relations."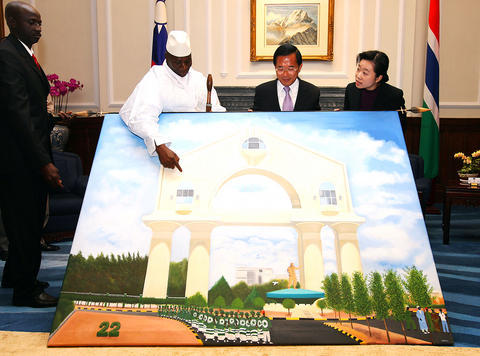 Gambian President Yahya Jammeh, second left, and President Chen Shui-bian, second right, exchange gifts during a meeting yesterday in the Presidential Office in Taipei.
PHOTO: CNA
Jammeh said he was convinced that the strong ties between Gambia and Taiwan are based on common values, shared interests and sentiments of human solidarity and mutually beneficial cooperation.
Saying he was deeply frustrated by the UN's continued rejection of Taiwan's application to become a member of the world body, Jammeh said that the UN's move was a gross violation of the basic principles of universality, equity and justice.
"There is no justification, therefore, for the continued sidelining of Taiwan in the United Nations," he said. "As a result, we will never relent in our efforts to press the legitimate case of your great country to ensure that the UN General Assembly Resolution 2758 is reviewed and the Republic of Taiwan is admitted into the United Nations as a full-fledged member."
The welcoming ceremony was briefly marred by an old man cursing outside the restricted area in front of the Presidential Office.
He was quickly escorted away by security guards.
During a meeting inside the Presidential Office after the honor guard ceremony, President Chen Shui-bian (陳水扁) told Jammeh that he was touched by his remarks and hoped that the Gambian leader could visit Taiwan every year.
Chen said his association with Gambia went back many years. Taipei and Banjul became sister cities in 1997 when he was Taipei mayor and Gambia is the first African country he visited after he took office in 2000.
Chen held a state banquet for Jammeh at Taipei 101 last night and will accompany him on a trip to Taichung today on the High-Speed Rail.
Comments will be moderated. Keep comments relevant to the article. Remarks containing abusive and obscene language, personal attacks of any kind or promotion will be removed and the user banned. Final decision will be at the discretion of the Taipei Times.