Chen raises martial law specter
FOUR CHOICES The president talked tough as Ma said Chen had no authority over election results and dismissed his threat to annul poll results
President Chen Shui-bian (陳水扁) said last night at a campaign rally in Shulin (樹林), Taipei County, that he was seriously considering four suggestions if the 18 pan-blue controlled cities and counties went through with their threat of implementing the two-step process.
The options are: implement martial law; invalidate the results of the pan-blue controlled authorities; replace local election commission heads, or get the CEC to delay the elections.
Chen made the comments after Chinese Nationalist Party (KMT) presidential candidate Ma Ying-jeou (馬英九) earlier yesterday dismissed Chen warning on Saturday that election results in cities and counties that employ two-step voting could be annulled.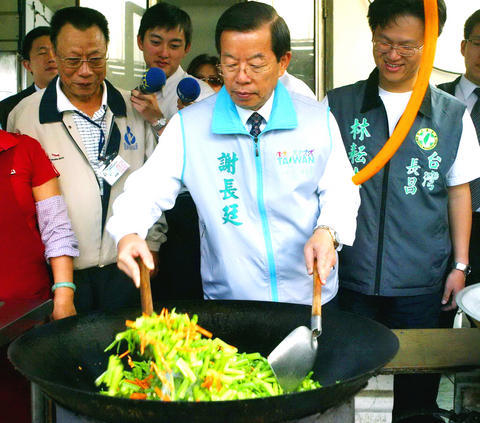 Democratic Progressive Party presidential candidate Frank Hsieh shows off his cooking skills during a visit to the Lung Yan-lin Welfare Association in Chungliao Township, Nantou County, yesterday.
PHOTO: CNA
Ma said Chen's warning was not to be taken seriously, adding that Chen, as the nation's leader and a lawyer, should know that only the judicial system can annul the results of an election and that political parties may not seek to annul the results with the court.
"The president has no authority to declare election results invalid ... He was emotional at the time and we shouldn't take his words too seriously," Ma said while campaigning for KMT legislative candidates in Taipei.
Chen had said that the government could declare legislative election results invalid if any of the 18 pan-blue-governed city and county governments defy a Central Election Commission directive to use one-step voting in the January polls.
At issue is whether voters should receive ballots for the legislative elections and two referendums simultaneously (one-step voting), or in succession (two-step voting).
Taipei Mayor Hau Lung-bin (郝龍斌) has said that the city will employ two-step voting and that voters who refuse to follow the city's procedures will be denied ballots. On Saturday, Chen dared Hau to ask poll staff to refuse him his ballots. Chen will vote in Songshan District (松山).
Ma defended the two-step voting process yesterday as a safer and less confusing option and said Chen -- who was reelected in 2004, when two-step voting was first employed -- shouldn't oppose two-step voting.
"President Chen benefited from two-step voting three years ago. How can he oppose the process now?" Ma said.
Ma said he was not worried about the pan-blue-governed cities and counties, which vowed to carry out two-step voting. He said 70 percent of the population would vote under these administrations, adding that the rest of Taiwan under pan-green local governments could see "chaos" because of the one-step voting system.
Hau yesterday stood firm on the city government's decision.
"The city government is simply doing what we should do. I think this incident has proved a great lesson in law and order for the people," he said.
Comments will be moderated. Keep comments relevant to the article. Remarks containing abusive and obscene language, personal attacks of any kind or promotion will be removed and the user banned. Final decision will be at the discretion of the Taipei Times.