Biologists create bat 'voice fingerprints' database
BAT TALK Scientists made a number of surprising discoveries about bats from the research, one being that bats have different `dialects' depending on their region
Local biologists have successfully sampled the ultrasonic frequencies of several bat species endemic to Taiwan, providing a substantial basis for future research and distribution surveys, sources at the Endemic Species Research Institute (ESRI) under the Council of Agriculture said yesterday.
ESRI associate research fellow Cheng Hsi-chi (鄭錫奇) said that bats depend on ultrasonic ranging abilities, or echolocation, to navigate their way around the environment and detect their prey, and that based on the fact that different species emit ultrasonic waves at specific audio frequencies, these frequencies can thus be used as a "voice fingerprint" in bat identification.
In a project that began last year, the researchers first captured bats and identified their classification, then recorded their voice after releasing them, Cheng said, adding that ESRI researchers acquire three stable audio samples from five different adult bats of the same species to ensure the accuracy of the database.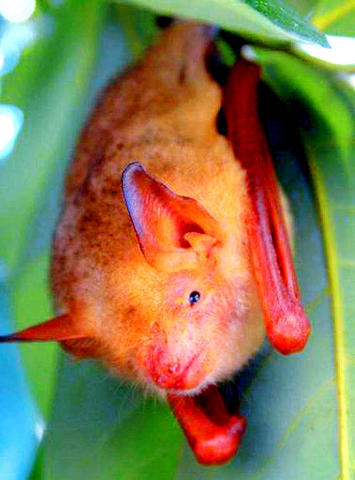 A bat is pictured hanging from a branch in Peikang in Yunlin County in this undated photo. Taiwan has the widest variety of bat species in the world.
PHOTO COURTESY OF THE ENDEMIC SPECIES RESEARCH INSTITUTE
"The database now contains the voice fingerprints of 11 local bat species," Cheng noted. "From now on, we will be able to identify an unknown bat by its voice."
The surveys also yielded some very interesting results, Cheng said.
For example, members of the same species living in different regions have minor variations in frequency, an evolution similar to dialects in human languages.
Cheng said that when multiple bats of the same species hunt in the same area, they also voluntarily add minor variations to their frequency, thereby avoiding interference with each other.
Cheng said the database, the first in Taiwan, will help researchers understand bat distribution.
Comments will be moderated. Keep comments relevant to the article. Remarks containing abusive and obscene language, personal attacks of any kind or promotion will be removed and the user banned. Final decision will be at the discretion of the Taipei Times.