Thousands take part in Taipei gay pride parade
RIGHTS The Cabinet drafted a controversial bill in 2003 to legalize same-sex marriages, but the law has yet to be passed. Gay rights supporters say the time has come
Thousands of people participated in a "Rainbow Power" parade in Taipei yesterday to show their support for the rights of gay, lesbian, bisexual and transsexual (GLBT) communities.
The parade took a carnival-like mood with marchers waving rainbow flags, colorful balloons and signs. Some were dressed in flamboyant period costumes while others only wore swim trunks despite the cool weather.
Organized by members of Taiwan GLBT communities and supported by dozens of other groups, yesterday's parade was the fifth annual GLBT parade in the country.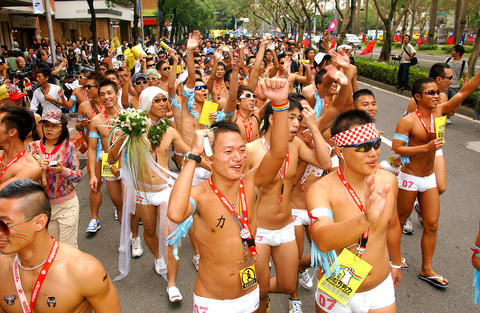 A group of men in swimming trunks gesture during a gay parade in Taipei yesterday.
PHOTO: AFP
"Showing off the power of the GLBT communities and their supporters is the theme of this year's parade," an event spokesman wished to be known as Goffy (喀飛) said.
In addition to participants mobilized by various groups, Goffy estimated a 70 percent volunteer participation, "that's the power -- and with the power, we'd like to demand equal rights for the GLBT communities," he said.
A participant who wished to be known as James said gays still don't have equal rights.
"For example, gay partners cannot become legally married and thus are excluded from all the legal rights of a married couple," he said.
"It's not fair that we've done all the duties required [of citizens] but do not enjoy all the rights," A-wei (阿威), a marcher, said.
The Cabinet in 2003 drafted a controversial bill to legalize same-sex marriages and recognize the rights of homosexual couples to adopt children, the first country in Asia to do so.
However, the law has yet to be passed and some gay groups have criticized the bill as a ploy to woo gay voters.
A-wei is also a member of the Tong-Kwang Light House Presbyterian Church, a church founded 11 years ago by members of the GLBT communities.
"God loves people -- that means all people," whether he or she is gay or straight, he said, explaining the founding principle of the church.
Before the parade departed from Sun Yat-sen Memorial Hall, Chinese Nationalist Party (KMT) presidential candidate Ma Ying-jeou (馬英九) gave a brief remark to show his support to the GLBT communities, and promised to push for legislation that better protects GLBT rights.
The parade reached its climax when all the demonstrators, divided into six groups, held up colored papers to compose the six-colored rainbow flag on Zhongxiao E Rd.
Onlookers packed the sidewalks and some waved small rainbow flags at participants as they marched by.
Pop singer A-mei (張惠妹) appeared at the end of the parade and accepted the "rainbow ambassador" certificate.
The singer, who performed some of her hit songs to the cheering crowd, endeared herself to the gay audience when she released a music video depicting a gay wedding scene several years ago.
Organizers estimated that 15,000 people participated in the parade, while a police source estimated around 10,000.
Additional reporting by AFP
Comments will be moderated. Keep comments relevant to the article. Remarks containing abusive and obscene language, personal attacks of any kind or promotion will be removed and the user banned. Final decision will be at the discretion of the Taipei Times.