Transportation hit by Typhoon Krosa
WEEKEND ASSAULT The super typhoon forced hundreds of people from their homes. Hundreds of flights were canceled and a person was killed on the Formosa Freeway
Pouring rain and gusty winds brought by Typhoon Krosa assailed the nation yesterday, disrupting transportation and forcing hundreds of people to evacuate their homes.
The coast line of the Taiwan Railway Administration was shut down at 8:30am yesterday when the electric wire linking Tungshiau (通宵) and Yuanli (苑裡) was severed by a falling electricity tower, forcing trains to operate on the mountain line instead.
Express trains heading toward Ilan and Hualien counties before 6pm were all canceled.
A giant wave hits the shores of Nanfangao fishing harbor in Ilan County yesterday.
PHOTO: AFP
High speed trains operating in the morning were delayed by 20 minutes to 30 minutes as inclement weather conditions forced the trains to slow down at some sections along the route.
The Taiwan High Speed Rail Corp said in the afternoon that trains departing after 5pm had all been canceled.
The company intended to resume normal operations today at noon.
A man tries to get his scooter upright after being blown over in Taipei yesterday.
PHOTO: LIN CHENG-KUN, TAIPEI TIMES
The Taipei City MRT and bus systems were in operation yesterday. However, because of strong winds, service on the Muzha Line, Xinbeitou Branch Line, Xiaobitan Branch and part of the Danshui Line was suspended from 3:30pm yesterday, the Taipei City Department of Transportation said.
Meanwhile, four inbound international flights and 30 outbound flights were canceled. More than 280 domestic flights suffered the same fate.
Strong winds felled wooden fences on the northeastern section of Taipei Songshan Airport yesterday morning.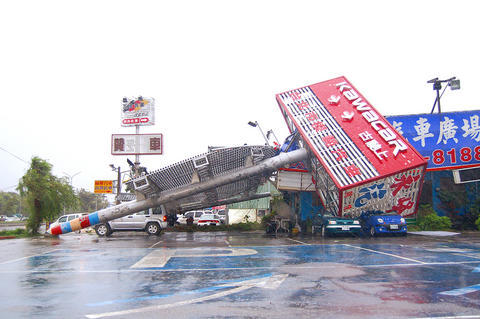 A car dealership on Chengde Road in Taipei and several cars lie crushed after a billboard was blown over yesterday.
PHOTO: LIN CHENG-KUN, TAIPEI TIMES
The airport's two enclosing walls facing Binjiang Street (濱江街) also collapsed.
As of press time, the typhoon had damaged six provincial highways, one farm road and 27 country roads.
Buffeted by winds, a container truck on the Formosa Freeway (National Freeway No. 3) flipped over and fell on the shoulder, killing a passenger and injuring another.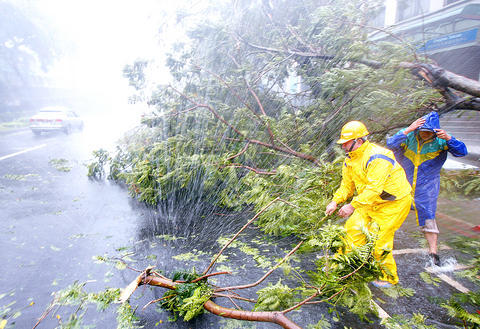 Workers clear a tree that snapped in Taipei.
PHOTO: LIN CHENG-KUN, TAIPEI TIMES
Foehn winds and a tornado were reported in Taitung County yesterday, as the local temperature climbed to 36.3oC.
As of 4pm yesterday, the National Fire Agency said 820 people had been told to leave their homes, including 176 residents from Dashi (大溪) and Fuhsing (復興) Townships in Taoyuan County, 164 from Jianshih (尖石) and Wufong (五峰) Townships in Hsinchu County, 396 from the Shilin (士林) and Beitou(北投) districts of Taipei City and 84 from Yingge (鶯歌) Township and Sindian (新店) City in Taipei County.
Additional reporting by Mo Yan-chih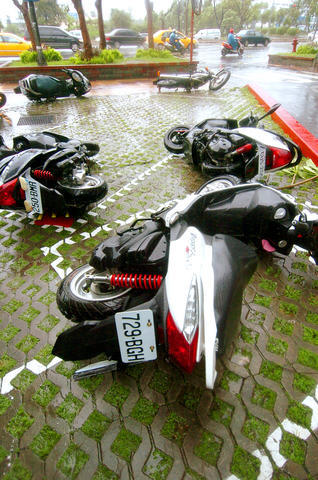 Scooters lie scattered in a parking area in Taipei yesterday after being toppled by heavy winds.
PHOTO: LIN CHENG-KUN, TAIPEI TIMES
Comments will be moderated. Keep comments relevant to the article. Remarks containing abusive and obscene language, personal attacks of any kind or promotion will be removed and the user banned. Final decision will be at the discretion of the Taipei Times.