Cabinet lists hazardous Chinese food items
SHRIMP ON THE BARBIE Barbecue grills, moon cakes and hairy crabs made the list of potentially dangerous items. Officials denied that the roster was based on politics
With the approach of the Mid-Autumn Festival and its accompanying barbecues on Tuesday, the Cabinet yesterday released a list of potentially hazardous food and cooking items from China.
Grills, shrimp, moon cakes and hairy crabs were among the products named by the Cabinet.
At a press conference, Executive Yuan Secretary-General Chen Chin-jun (陳景峻) said the products often contained high quantities of metals such as lead and cadmium.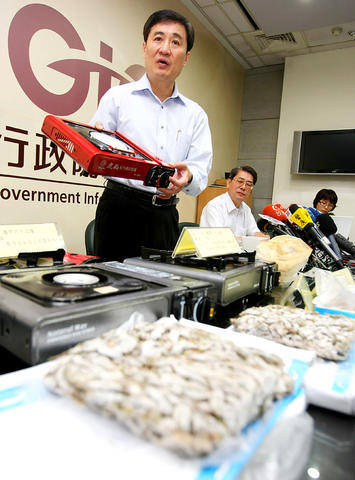 Executive Yuan Secretary-Gerenal Chen Chin-jun holds up a gas stove as he warns people to buy only Chinese goods that have passed inspections when purchasing goods for Mid-Autumn Festival.
PHOTO: CNA
Meanwhile, on Thursday, a Department of Health (DOH) official defended the inspection standards that Taiwan applies to hairy crabs imported from China, saying that Taiwan adopts international testing standards and that no political considerations are involved.
Cheng Huei-wen (鄭慧文), head of the DOH's Bureau of Food Sanitation, said that the government applies the same inspection standards as the US, Canada, Japan and the Codex Alimentarius Commission -- an international food standards body -- to test for chemical residue on domestic and imported crabs, including those from Vietnam and the Philippines.
China should not be afraid of Taiwan's quality control standards because China claims that its hairy crabs are "naturally bred" and contain no impurities, Cheng said.
He said that the bureau runs tests on all imported food products as part of efforts to safeguard the health of local consumers.
Cheng said that a total of six batches of imported Chinese white shrimp samples failed food safety tests between the end of July and Aug. 21, prompting the department to call for a halt to imports of the shrimp on Aug. 22.
Cheng said the ban had nothing to do with politics.
Cheng's remarks came after Chen Yuan-chen (陳元貞), senior manager of the Taiwan Accreditation Foundation, said that her Chinese counterpart refused to produce official health certificates for imported hairy crabs.
The foundation is tasked by the DOH with negotiating with China's General Administration of Quality Supervision, Inspection and Quarantine over the imports of hairy crabs into Taiwan.
Chen said that Taiwan does not allow traces of certain antibiotics or sulfa drugs, while China allows levels of between 0.5 parts per billion (ppb) and 100ppb.
China's testing machines can detect a minimum level of 0.5ppb, while Taiwan's can detect the minimum level of 0.3ppb, Chen said, adding that the Chinese administration feared that hairy crabs might pass China's inspections but not those in Taiwan.
Comments will be moderated. Keep comments relevant to the article. Remarks containing abusive and obscene language, personal attacks of any kind or promotion will be removed and the user banned. Final decision will be at the discretion of the Taipei Times.