FEATURE: MND continues series of `open' military exercises
A Kidd-class destroyer opened its doors to the media on Wednesday, offering visitors a display of its might during a live-fire exercise at sea.
The flagship Tsoying was accompanied by the Perry-class frigate Tzuyi and the Knox-class frigate Fengyang during the exercise in Tsoying, Kaohsiung.
Replenishment-at-sea and anti-submarine exercises were also held that day.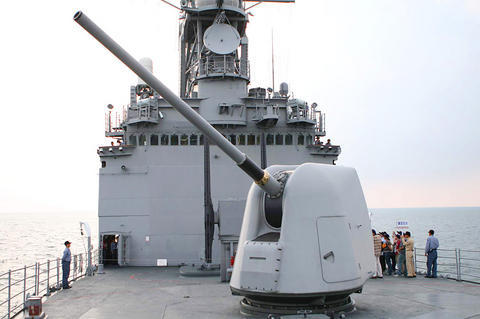 The Tsoying destroyer points its 5-inch gun seawards during a live-fire exercise at sea on Wednesday.
PHOTO: JIMMY CHUANG, TAIPEI TIMES
"What you are witnessing are drills that we hold on a routine basis," said Vice Admiral Chiang Lung-an (姜龍安), deputy commander of the Fleet Command Headquarters.
Lieutenant Chuang Fu-ke (莊馥閣), missile-control chief of the Kidd-class destroyer Makung, was also on board the Tsoying during the drill, manning the 5-inch guns.
Chuang is the first woman to hold that position in the Navy's history.
"I am here to demonstrate that women can do these things just as well as men," she told reporters as they boarded the Tsoying.
Last Wednesday's demonstration was the latest in a recent series of drills made accessible to the media.
"Our policy is to keep the media and the population informed about what the military has been doing," Ministry of National Defense spokesman Major General Yu Sy-tue (虞思祖) said.
During a demonstration on Aug. 27, a Seahawk S-70C helicopter landed on the Lafayette-class Kuenming frigate, which was berthed at the Tsoying base.
Officers said the drill could be extremely dangerous as unpredictable and oftentimes strong winds during the landing phase could cause the helicopter to crash into the sea.
Sailors also held exercises, putting out simulated fires and fixing a mock leaking problem on the ship.
"Unlike a fire or leak on land, problems like this must be fixed immediately or it could very well jeopardize the entire ship and put its personnel at risk," Petty Officer Chen Yu-chuan (陳宥全) said.
Later that night at the Air Force's Hsinchu base, where the nation's Mirage-2000s aircraft are based, six jets carried out a nighttime scramble take-off, again in the presence of the media.
On Aug. 28 in Miaoli, soldiers staged an exercise demonstrating how they could regain control of a town occupied by enemy troops.
Army 269th Brigade Chief Major General Ma Chien-chun (馬健群) said the brigade was ready to deal with various conflict scenarios.
Comments will be moderated. Keep comments relevant to the article. Remarks containing abusive and obscene language, personal attacks of any kind or promotion will be removed and the user banned. Final decision will be at the discretion of the Taipei Times.