FEATURE: Taiwan's frontline receives rare visit
ISLAND OF DREAMS A rare voyage was permitted last Saturday when 122 people sailed to the isolated islands of Wuciou each with missions, messages and memories
Climbing on board a private charter boat, 122 people set off early last Saturday morning from Taichung for Wuciou (烏坵) -- a pair of small islands that remain isolated from the rest of the country because of their strategic location as a military stronghold.
Lying midway between Kinmen and Matsu, Wuciou is approximately 133km from Kinmen, 135km from Taichung, but just 16km from China's Nanri Island (南日島).
Because of its proximity to China, near 400 marines are stationed on the two islands that make up Wuciou Township -- in addition to roughly 40 civilian residents.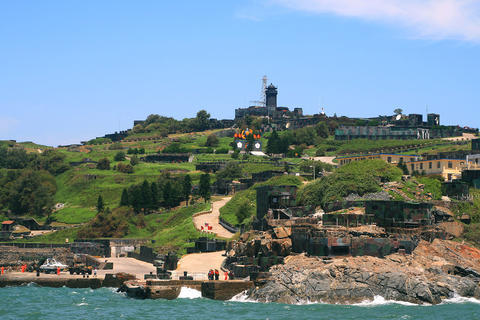 Because of its strategic location, camouflaged military facilities are scattered all over Wuciou. The 133-year-old lighthouse can be seen on the island's highest point.
PHOTO: LOA IOK-SIN, TAIPEI TIMES
In addition to Mandarin, the locals speak a dialect called Wuciou Hua (烏坵話) -- also known as Meizhou Hua (湄洲話) and Putian Hua (莆田話) which are spoken along the coastline of China's Fujian Province and on China's Meizhou Island.
However, since most of the soldiers stationed on the islands are from Taiwan proper and that most locals have lived in Taiwan for certain periods of time during their lives, many are able to converse in Hoklo (or Taiwanese).
For centuries, Wuciou was regarded as the property of the Meizhou Matsu Temple (湄洲媽祖廟), and a place for fishermen from Meizhou to rest, said Kao Yung-chang (高詠章), a native of Wuciou on the way from Taipei, where he works, to Taichung for the trip.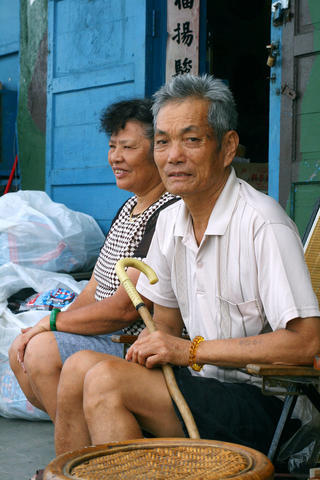 Wu Fung-ying, left, sits with her husband Chu Ya-san in front of the small shop they run in Wuciou. A trip to visit her mother on China's Meizhou Island, only 37km away, took her two days as she had to travel via Taichung, Kinmen and Xiamen.
PHOTO: LOA IOK-SIN, TAIPEI TIMES
Connections between Meizhou and Wuciou were blocked when the two sides of the Taiwan Strait became hostile, Kao added.
Nowadays, the only way the islanders can connect to the rest of Taiwan is via a six-hour trip on a military supply ship that travels between Taichung and Wuciou once every 10 days -- weather and tide permitting.
Frustrated by the inconvenience and lack of resources in her hometown, Gao Dan-hua (高丹華), a native of Wuciou, decided to organize a trip of 100 people along with non-governmental organizations (NGO) such as Taiwan Peace at Grassroots (TPG) and the Taiwan Environmental Protection Union (TEPU) to raise public awareness of the needs of the frontier islands.
To highlight the transportation issue, Gao and the NGOs decided to hire a boat instead of taking the regular military supply ship.
However, that didn't solve all the problems.
"Everyone -- including Wuciou officials and the company we were hiring the boat from -- wanted us to ask the military for permission to travel first, although there's no law that requires this," Chen Chien-fu (陳建甫), director of TPG's preparatory office, said during a press conference on Aug. 31st.
The permission finally came that afternoon, after intense negotiations with the ministry and help from several lawmakers, Chen said.
Despite the difficulties encountered in arranging the trip, the journey fulfilled the dreams of many of the 122 travelers.
Gao, for her part, wanted the Wuciou Lighthouse to be lit up again.
"My father passed away in March, and it was his hope to see the lighthouse lit up again," Gao told the travelers aboard the boat.
The Wuciou Lighthouse was completed in 1874 by British engineer David Henderson, but was put out of use in 1953 because of military considerations.
Gao's great-grandfather, grandfather and father had all been keepers of the lighthouse, and therefore, seeing the lighthouse lit up again was not just her father's dream, but also hers and her entire family's, Gao said.
Chu Ming-huang (邱明煌), on the other hand, simply wanted to complete his mission to set foot on every part of the country.
"In the past two years, I've traveled to 318 townships and cities around the country. Wuciou is the only place that I have never been to," Chu told his fellow travelers.
"So I kept my hair long and told myself that I would only cut it when I set foot on Wuciou," he said, while directing everyone's attention to his long hair.
Pan Kuo-hsiung (潘國雄), a retired school principal, wanted to see the place where he did his military service 40 years ago and visit the students he once taught as a soldier-teacher.
"The only teacher at the Wuciou Elementary School at the time had to leave for Taiwan for personal reasons when I was serving on the island," Pan said. "Since I'd been through teacher training, I naturally took the job as teacher."
"Wuciou is like my second home, it's really nice to be alive and go back to Wuciou," Pan said when asked how he felt as the boat approached the island.
Warm hugs awaited Pan ashore.
Juan Chin-shun (阮金順), the father of a former student of Pan, recognized him right away as he stepped onto Wuciou and gave him a warm hug.
Wu Chin-tsai (吳金財), a former student of Pan, rushed to welcome Pan upon hearing of his arrival.
"Pan was very good to us in class, we all liked him a lot," Wu said. "It was very sad when he had to leave."
"I am not too surprised to see my teacher again, because I always knew that he would come back one day," Wu said when asked how he felt.
Although the locals gave their guests a warm welcome, some residents had reservations about Gao's call to open up Wuciou.
"We're living a very good life here in Wuciou. Yes, there are military facilities all over, but the soldiers are like our family members," Lin Jung-jen (林榮仁), Speaker of the Wuciou Township Council, said.
"The military helps with whatever we need; they share their resources with us; as for transportation, we residents merely need to sign up and we don't have any problem with taking the military supply ship," Lin said.
"Of course we welcome visitors, but the capacity of the island needs to be considered as well," another local resident said. "A hundred people at once is a heavy burden for such a small island like ours."
"A lot of Wuciou residents go to school and work in Taiwan proper; but when they retire, they come back and spend their retirement here," Lin said. "We'd like to keep our islands like this. We don't want any modern development."
In response, Gao said she agreed with most of the locals' opinions, and believed that conflict was a result of miscommunication.
"I'm with them -- I'm not for large-scale development and I'm not for withdrawal of the military either," Gao said.
However, Gao said she believes that Wuciou needs some improvements -- especially terms of transportation.
"The ferry between Wuciou and Taichung should be accessible to everyone; besides, if Wuciou administratively belongs to Kinmen, why aren't there ferry services between the two?" Gao said.
Local shopkeeper Wu Fung-ying (吳鳳英) described how difficult it was for her traveling to Meizhou to visit her mother, even though Meizhou is visible from Wuciou.
"I took the boat from Wuciou to Taichung, then I flew from Taichung to Kinmen. From Kinmen, I took the ferry to Xiamen [in China], and finally another bus trip from Xiamen to Meizhou," Wu said while shaking her head.
Medical facilities are another area that could use some improvement.
"The only medical institution on the island is the military medical station, which has only one senior military doctor, and two aides serving their compulsory military service on the island," Gao said, adding that there are also two nurses on temporary mission from a Changhua hospital.
"Of course, I know that for a small island like Wuciou, too much investment in medical facilities could be a waste of resources," Gao said. "But there should be at least one medical facility with the capacity to treat basic medical needs, apply initial treatment before a patient is sent back to Taiwan proper by helicopter; a good medical communication network and post-treatment care facilities so people can rest well after receiving treatment in Taiwan proper."
The trip marked the first non-military contact between Wuciou and Taiwan proper, and seems to have opened a door for better communications.
"While you're here, please look around and listen to the locals. You'll realize that things are probably not like what you have thought in Taiwan -- try not to look at things in Wuciou from a Taiwan point of view," Lin reminded his guests.
One thing that shocked many visitors to the island were the large number of Chinese fishing boats in the surrounding waters.
"We don't mind them fishing near the island since it's not only our water, but theirs as well," Lin said.
"But the problem is that they [Chinese fishermen] use explosives to kill fish -- it's faster, but it kills all living things in the water and causes severe damage to the underwater ecology," Lin said.
Kao recalled how rich the fisheries around Wuciou islands was when he was a kid.
"We used to have lobsters and yellow croakers for just about every meal, but it's hard to find any these days," Kao said.
In fact, centuries ago, people had to apply for permission from the Meizhou Matsu Temple before they could carry out a particular economic activity on Wuciou.
"You could apply to catch fish, pick laver, sell water or salt. But you could only do whatever you were permitted to do. That's how the ecology was kept in balance in the past," Kao said.
Comments will be moderated. Keep comments relevant to the article. Remarks containing abusive and obscene language, personal attacks of any kind or promotion will be removed and the user banned. Final decision will be at the discretion of the Taipei Times.