TNC vows to push referendums
NO MORE ROC Taiwan National Congress secretary-general Hsu Fu-tong said their purpose was to educate the public about direct democracy and popular sovereignty
A new pro-independence coalition yesterday vowed to push referendums on changing the name of the country and repeal the Referendum Law (公投法) next year in conjunction with the presidential election.
The Taiwan National Congress (TNC), formed by over 20 local and international pro-independence groups last Wednesday, said it hopes to push for a referendum on changing the country's official name from the Republic of China to Taiwan and another referendum on invalidating the Referendum Law, because "the high thresholds deprive Taiwanese of the ability to exercise their democratic rights."
The law stipulates that a successful petition for a referendum requires 0.5 percent of eligible voters who took part in the most recent presidential election to sign it -- about 80,000 people. In addition, signatures of 5 percent of the number of voters in the nation, or approximately 800,000 people, are needed before the petition can be screened by the Referendum Review Committee.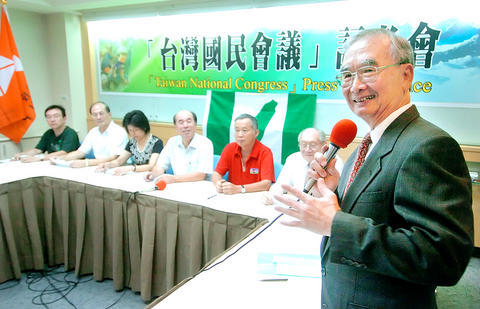 Taiwan National Congress secretary-general Hsu Fu-tong speaks at a press conference in Taipei yesterday.
PHOTO: WANG MIN-WEI, TAIPEI TIMES
The law also prohibits people from initiating more than one referendum on the same topic within a three year period if the initial referendum fails to win support from the public.
TNC spokesman Ted Lau (劉重義) told a press conference yesterday that the congress would not follow the procedures stipulated in the Referendum Law to mount the two referendums and would declare its referendums successful if more than half of the voters agree.
It also plans to invite international experts to supervise the process and to ensure the referendums are conducted in a fair and transparent manner, Lau said.
Whether such referendums, carried out without reference to the legal mechanisms, would have any meaning if they were passed, Lau could not say but asked "is Taiwan a country governed by the rule of law?"
He said the group's intention was not to make Taiwan a lawless nation as the "Chinese Party [Chinese Nationalist Party [KMT]] have already done that."
Coalition secretary-general Hsu Fu-tong (徐福棟) said their purpose was to educate the public about direct democracy and popular sovereignty.
Through the referendums, Hsu said, Taiwan could tell the world exactly what the people want.
Lau said their short-term goal is to establish a mechanism whereby the public can have a direct say on major issues and veto legislation that it deems "inappropriate."
Their intermediate goal is to abolish the Legislative Yuan and the ultimate goal is to establish a "new and independent country," he said.
Comments will be moderated. Keep comments relevant to the article. Remarks containing abusive and obscene language, personal attacks of any kind or promotion will be removed and the user banned. Final decision will be at the discretion of the Taipei Times.