Lo Sheng fossils, artifacts must be saved: historian
BURIED TREASURE The already controversial location chosen for a future MRT maintenance depot is home to centuries-old tombs and fossils of prehistoric sealife
A historian called yesterday for stronger conservation measures for Lo Sheng ("Happy Life") Sanatorium after discovering fossils at the construction site of an MRT maintenance depot last month.
The Taipei County sanatorium is a sprawling complex built during the Japanese colonial era to isolate people suffering from Hansen's disease, also known as leprosy. Plans to tear down most of the sanatorium's buildings to make room for an MRT maintenance depot have met with strong opposition.
Activists protested the demolition on the grounds that it meant evicting its residents.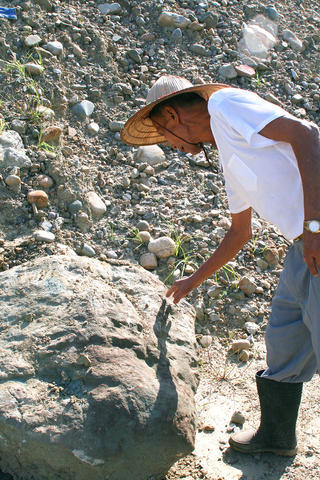 Lu Te-chang, a Lo Sheng resident, points out fossils on a piece of rock located at the MRT maintenance depot construction site yesterday.
PHOTO: LOA IOK-SIN, TAIPEI TIMES
They received support for their cause when Tamsui-based historian Chi Jung-ta (紀榮達) discovered prehistoric fossils embedded in rocks at the site.
"The hills [of Lo Sheng] are composed of sedimentary rocks, which contain fossilized remains of prehistoric marine life such as seashells, since [the area] was once seabed," Chi explained to the Taipei Times in a telephone interview.
After consulting with Chen Wen-shan (陳文山), a geoscience professor at National Taiwan University, Chi said that the fossils belonged to the Pliocene era, "which is at least 5 million years before our time," Chi said, adding that further examination would be needed to gain a more detailed picture.
Unfortunately, a lot of the rocks with fossils have been destroyed, Chi said.
"When I went to the construction site in June, I saw them [construction workers] breaking the rocks into sandstone to use as construction material," he said.
Chi said there were many tombs of Chinese settlers from the Qing Dynasty within Lo Sheng's perimeter.
"We could make the entire area into an on-site exhibition not only of Taiwan's public health history, but also of the history of settlers and of paleontology," Chi said.
Fang Juang-lih (方壯勵), a Department of Rapid Transit Systems official, confirmed the discovery of fossils to the Taipei Times by telephone yesterday.
"I've asked the [Taipei] County Cultural Affairs Bureau and the construction firm to further investigate the matter and submit a report," he said.
"We'll decide what to do after receiving the report," he said.
Although the discovery was made last month, the construction was only halted on Tuesday after an assistant to Taipei City Councilor Lin Jui-tu (林瑞圖) visited the site and demanded construction stop, said Lu Te-chang (呂德昌), a Lo Sheng resident.
Comments will be moderated. Keep comments relevant to the article. Remarks containing abusive and obscene language, personal attacks of any kind or promotion will be removed and the user banned. Final decision will be at the discretion of the Taipei Times.