Asian Muslim youth camp held
COMING TOGETHER The Chinese Muslim Association organized the four-day summer camp to promote networking among Muslims and discuss important issues
Eighty young Muslims from several Asian countries gathered in Taipei to participate in the first Asia Regional Muslim Youth Summer Camp that began yesterday.
The four-day summer camp was organized by the Chinese Muslim Association with the aim to promote networking among young Muslims in Asia and to enhance Taiwan's relations with Islamic countries, Ma Ju-hu (馬如虎), president of the Chinese Muslim Association, said.
In addition to the participants, diplomats and officials from several Islamic countries -- such as Malaysia, Indonesia, Burkina Faso and Saudi Arabia -- also attended the summer camp's opening ceremony at National Chengchi University.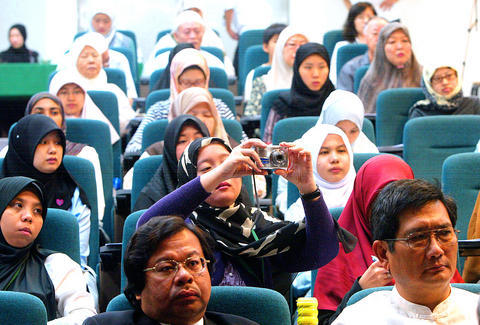 Students from eight Asian nations yesterday attend the opening ceremony of the Islamic Youth Summer Camp of Asia Region, which will run through Sunday at National Chengchi University.
PHOTO: CNA
Topics that will be discussed during the four-day summer camp include spiritual ones, such as the role of humans in the universe and the true meaning of Islam, to more worldly matters, such as the Islamic view of international relations, war and peace, the agenda showed.
The participants were eager to seize the opportunity to learn more about Islam.
"I want to learn about the position of Islam in the international community, and I'd like to continue to contribute energy to Islam after the camp," said Saifullah Ma (馬文光), a Taiwanese Muslim who has just graduated from high school.
"I'd like to gain more understanding of the Islam," said a young Muslim from Hong Kong expressing a similar wish.
Making friends was another reason these young men gave for attending.
"Japanese Muslims are a minority [in Japan], and there aren't many chances to meet with other [Muslim] brothers and sisters," said Ahmed Nakahashi Genta, a Japanese Muslim. "I hope to meet with the brothers and share experiences and values with them." Nakahashi estimated that there are around 10,000 Muslims in Japan.
Saifullah Ma and Nakahashi said they had run into misunderstandings of Islam from time to time in their daily lives and hoped to be able to better explain Islam after the camp.
"[The summer camp] is more about networking and fraternity than religion ? it will continue," said Shahrir Hashim, executive secretary of the Regional Islamic Da'wah Council of Southeast Asia and the Pacific.
Ma Ju-hu confirmed that the summer camp will become an annual event and the next camp will likely be held in South Korea.
Comments will be moderated. Keep comments relevant to the article. Remarks containing abusive and obscene language, personal attacks of any kind or promotion will be removed and the user banned. Final decision will be at the discretion of the Taipei Times.