Eight arrested in Wu investigation
WIDENING Six men and a woman were arrested by police along with Wang Yao-kai, who is believed to have helped in the planning of Wu Shan-jeou's murder
A man suspected of playing an intermediary role in the murder of Taipei County councilor Wu Shan-jeou (吳善九) last month was nabbed yesterday, a day after the alleged killer committed suicide following a gun battle with police.
Wang Yao-kai (王耀凱), 24, was arrested in an apartment on Changchun Street, in Taipei's Wanhua District, early yesterday morning during a police raid.
Six other men and a woman were also arrested for abetting Wang.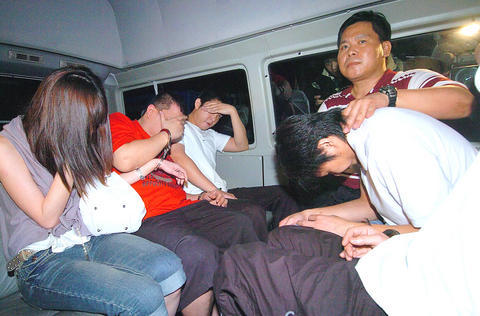 Suspects in the murder of Taipei County councilor Wu Shan-jeou sit in a police van after being arrested yesterday in Taipei's Changchun Street. Below: Wang Yao-kai, nicknamed A-ken, middle, is arrested in an apartment building on Changchun Street early yesterday. Wang is a suspect in Wu's murder.
PHOTO: LO PEI-DER, TAIPEI TIMES
Investigators said that Wang had acted as a liaison during Wu's assassination.
Wang is believed to have helped two other suspects steal two motorcycles, parts of which were used to modify the vehicle used by the alleged gunman, Lan Chia-wei (藍家偉).
Lan exchanged gunfire with police officers in a parking lot for more than 20 minutes late on Sunday night before turning his gun on himself.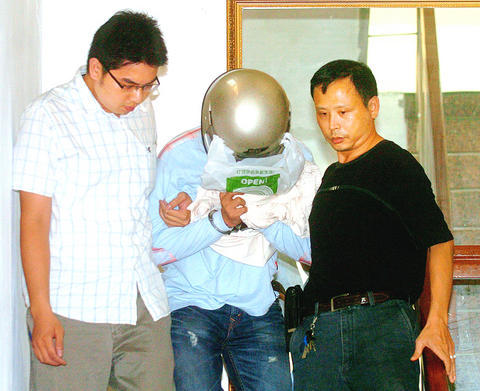 ?
Following Lan's death, police stepped up efforts to track down Wang by closely monitoring the behavior of his family members and analyzing Lan's cellphone records.
Police finally traced Wang to the apartment in Wanhua, adjacent to a police dormitory and a riot police station.
Taipei County Police Department Vice Commissioner Wang Yu-kang (王毓綱) told a press conference yesterday that Wang Yao-kai had cooperated fully with police during the investigation.
Wang Yao-kai told police that Lan was Wu's killer. Wang Yao-kai also told police that Wu Hsin-chung (吳信中) was the mastermind behind the murder and that he had paid him and Lan to plan and commit the killing.
Banciao gangster Wu Hsin-chung is believed to have fled to China a couple of days after the May 23 assassination.
Police said they believed that Lan and Wang Yao-kai had yet to receive any money from the suspected mastermind.
Police brought Wang Yao-kai to a park in Banciao yesterday, where police found two pistols that he had hidden.
The Criminal Investigation Bureau later confirmed none of the pistols had been used in the killing.
The suspect said the pistol fired at the councilor had been hidden in Ilan County by Lan after Lan committed the crime, Wang Yu-kang said.
Police will begin looking for the pistol today.
Now that the key contact or "middleman" in the murder has been rounded up, police said they will use cross strait communication channels to request that their Chinese counterparts speed up efforts to track down the suspected mastermind Wu Hsin-chung.
Police said Wu Hsin-chung and some of his friends were involved in environmental clean-up businesses and that the murder was probably connected to those businesses.
Wu Shan-jeou, a People First Party member, often raised environmental issues at Taipei County Council meetings.
Comments will be moderated. Keep comments relevant to the article. Remarks containing abusive and obscene language, personal attacks of any kind or promotion will be removed and the user banned. Final decision will be at the discretion of the Taipei Times.