Tourism bureau names not-so-secret `ambassadors'
The Tourism Bureau formally named pop singer Jolin Tsai (蔡依林) and film director Wu Nien-jen (吳念真) as the nation's next tourism ambassadors for the Southeast Asian region yesterday, two days after a leak embarrassed the bureau.
Bureau Director-General Janice Lai (賴瑟珍) had wanted to keep the names a secret when she was first asked by reporters about the matter two weeks ago, but the Chinese-language Apple Daily named the pair in a report on Wednesday.
Tsai and Wu replace pop singer Chang Huei-mei (張惠妹), who had been tourism ambassador for three years.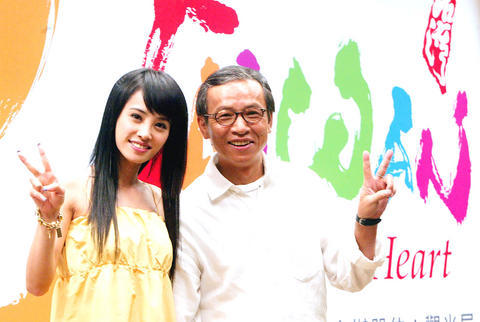 Pop singer Jolin Tsai, left, and film director Wu Nien-jen make the V-sign at a press conference held by the Tourism Bureau yesterday.
PHOTO: CNA
That choice proved to be a success, with the number of tourists visiting Taiwan from Southeast Asia increasing by an average 10 percent annually over the period, Lai said.
"The number of tourists from the [Southeast Asian] region increased from 630,000 in 2004 to 760,000 in 2006, which was an average 10 percent annual increase," Lai told a press conference yesterday.
The success encouraged the bureau to continue the campaign, she said.
"Wu represents the more in-depth values behind traveling such as culture and tradition, while Tsai stands for Taiwan's pop culture and modernity," Lai said. "While they each stand for something poles apart, they also represent the diversity of Taiwan."
Campaign materials that Wu and Tsai will participate in include TV commercials and newspaper advertisements in Hong Kong, Macau, Singapore and Malaysia, she said.
In addition, Wu will be a tour guide on selected tour packages from Malaysia, while the bureau will also offer package tours that include tickets to Tsai's concerts, Lai said.
"We hope to increase the number of tourists by at least 7 percent in the coming year," she said.
Comments will be moderated. Keep comments relevant to the article. Remarks containing abusive and obscene language, personal attacks of any kind or promotion will be removed and the user banned. Final decision will be at the discretion of the Taipei Times.