F4 features in tourism commercial
The Tourism Bureau premiered a TV commercial yesterday featuring the popular boy band F4, scheduled to be broadcast in Japan and Korea starting next month.
The 30-second TV spot is part of the bureau's aggressive marketing campaign to increase the number of Japanese and Korean tourists visiting Taiwan each year.
The story begins with a Japanese tourist receiving a letter from Taiwan, then shifts to four famous local scenic spots, which are visited by the F4 members.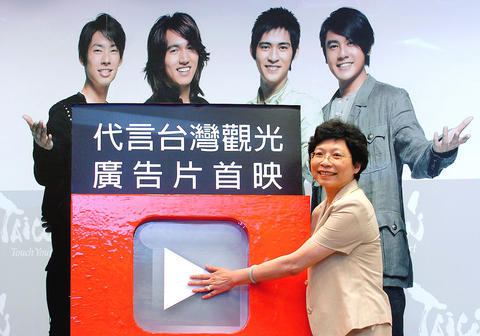 Taiwan Tourism Bureau Director-General Janice Lai yesterday presses the ''play'' button on a poster featuring the four members of the popular boy band F4 at an event promoting a TV commercial titled ''Wish to See You in Taiwan,'' scheduled to be broadcast in Japan and Korea starting next month.
PHOTO: LIAO CHEN-HUEI, TAIPEI TIMES
Jerry Yan (言承旭) appears in an exhibition room at the National Palace Museum, looking at Chinese calligraphy and then becoming one of the characters in an ancient painting.
Vanness Wu (吳建豪) is first seen playing with a lantern in Pingsi (平溪), Taipei County. Two seconds later, Taipei 101 is seen, amid exploding fireworks.
Ken Chu (朱孝天), for his part, is seen standing on the side of the Love River in Kaohsiung, looking dreamily at the metropolitan area at night.
Meanwhile, Vic Chou (周渝民) is seen playing with a Taiwanese puppet, with the traditional art center in Ilan County in the background.
The bureau's director general Janice Lai (賴瑟珍) said yesterday that the commercial will appear on 14 TV stations in Japan and three in Korea.
Lai said that a TV series featuring F4 will also begin shooting next month. Based on the contract, the series will be broadcast by the end of this year.
Lai also confirmed that Yan will not be in the TV series due to prior obligations. While Chu and Chou are guaranteed to be in the series, Lai said the bureau was working to get Wu on board.
To Lai, the commercial was a gratifying experience.
"Many Japanese tourists are impressed by the snacks at the night markets, the fortune-tellers or the Hsiaolongbao [little steamed buns]," she said." What we are trying to create is a fresher image. Through the charm of these four people, we hope to give our guests a better understanding of Taiwan."
Besides the TV networks, the commercial will also feature on flights from Japan and Korea before they land in Taiwan.
The bureau is hoping to increase the number of Japanese tourists to 1.23 million and that of Koreans to 210,000 annually.
Comments will be moderated. Keep comments relevant to the article. Remarks containing abusive and obscene language, personal attacks of any kind or promotion will be removed and the user banned. Final decision will be at the discretion of the Taipei Times.