DPP lawmakers want to know who is calling who
What was intended as a briefing for lawmakers on the Transportation Committee about the freeway Electronic Toll Collection (ETC) system yesterday became an exclusive question and answer session between the Democratic Progressive Party (DPP) legislators and Chunghwa Telecom.
DPP legislators -- mainly those who lost in the party's legislative primary -- asked the phone company to help the party investigate complaints about abnormal increases in new phone line applications in certain districts around the time the public opinion poll portion of party's primaries were held.
They also asked if the party could see transcripts of phone conversations recorded on phone lines used by the polling firms, as they suspected some of the firms relayed phone calls in ways that favored certain candidates.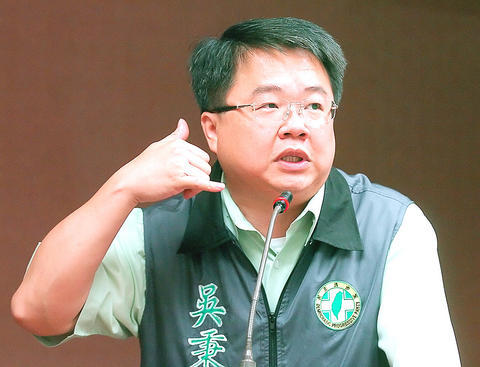 Democratic Progressive Party (DPP) Legislator Wu Ping-jui pretends to make a phone call as he talks to reporters about the controversy over the reliability of the telephone survey portion of the DPP's legislative primaries.
PHOTO: WANG MIN-WEI, TAIPEI TIMES
The lawmakers pushed through a resolution asking Chunghwa Telecom to provide the survey sample.
They said Article 23 in the Computer-Managed Personal Information Protection Law (電腦處理個人資料保護法) states that the company is legally allowed to provide such information if it is deemed in the public interest.
Chunghwa chairman Hochen Tan (賀陳旦) said the company has a legal responsibility to its customers.
He said the company can only offer assistance on the condition that it will not disclose personal information about its customers and follows due procedures.
The legislators' request for information about applications for new phone lines may expose these detailed records to the public, he said.
Chunghwa Telecom vice president Chang Feng-hsiung (張豐雄) said the Telecommunications Act (電信法) states that "a telecommunications enterprise or its employees, including the retired, shall hold the existence and content of communications in strict confidence."
The act also requires that telecommunication enterprises supply relevant records to any subscriber who requests his or her own communication records after paying any necessary charges, he said.
No political party has ever made an application to look into telephone records before, he said.
He said Chunghwa Telecom's judicial department must first determine whether the content might suggest evidence of criminal behavior before the company can disclose any personal information.
Chang said organizers of trade shows and large-size exhibitions often apply for multiple phone lines for short-term use. The company has no way to tell whether polling firms also use the same technique to deliver biased results, he said.
Comments will be moderated. Keep comments relevant to the article. Remarks containing abusive and obscene language, personal attacks of any kind or promotion will be removed and the user banned. Final decision will be at the discretion of the Taipei Times.