Squabbling lawmakers disrupt meeting
STOLEN ASSETS SIDELINED The political gulf between pan-blue and pan-green legislators led to the adjournment of a joint committee meeting for the third time
Exploiting the pan-blue's numerical superiority, two legislative committees governing domestic affairs and laws voted to adjourn a joint meeting yesterday, once again blocking efforts to review the issue of the Chinese Nationalist Party's (KMT) stolen assets.
It was the third time the joint meeting has been called off. The first time was Oct. 14 last year and the second was on Dec. 13.
The Home and Nations Committee and Organic Laws and Statutes Committee voted 18 to 8 in favor of adjourning their meeting, which was scheduled to review the proposed political party law, which would require the KMT to return its improperly acquired assets within a certain period of time.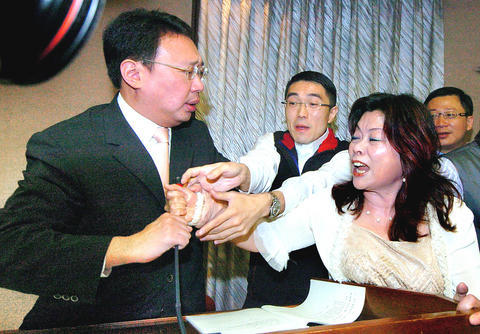 Chinese Nationalist Party (KMT) legislators Chu Feng-chi, front right, and Hsieh Kuo-liang,second left, tussle for control of the microphone with Taiwan Solidarity Union Legislator David Huang during a dispute over reviewing the proposed political party law during a joint meeting of the Home and Nations Committee and Organic Laws and Statutes Committee yesterday.
PHOTO: LIAO CHEN-HUEI, TAIPEI TIMES
The motion to adjourn the meeting was initiated by KMT Legislator Chu Fong-chi (朱鳳芝) and endorsed by 10 other pan-blue lawmakers.
Verbal clashes began when Democratic Progressive Party (DPP) Legislator Jao Yung-ching (趙永清) criticized the KMT for intending to use its stolen assets to fund its members' campaigns for the year-end legislative elections and next year's presidential election.
Citing the example of KMT Legislator Chang Chin-chung (張慶忠), Jao said that the KMT's stolen assets are "the source of evil" and a heavy burden for the party.
The KMT will always remain an opposition party if it hangs on to its dubious assets, he said.
Jao was referring to the allegation made by KMT Legislator Lee Ching-hua (李慶華), who accused Chang of rigging the first stage of the party's legislative primary to make him lose the race.
Chang retaliated by lodging a protest, saying Jao's remark was a personal attack against him and that as a former KMT member Jao was "raised on the KMT's milk."
Jao then called Chang crazy.
Chang shouted back that Jao was "shameless."
Chu joined the bickering by calling Jao a "fence-sitter" and "chameleon."
Chu also irritated Taiwan Solidarity Union (TSU) Legislator David Huang (黃適卓) by interrupting him when he tried to speak.
Huang and Chu then engaged in a shouting match, with Huang yelling that Chu was "raised on the Chinese Communist Party's [CCP] milk" and that she was a "CCP spokesperson" and had "colluded with CCP to sell out Taiwan."
Huang said the KMT should be ashamed because they "scolded Taiwan like a dog" but "curry favor with China like a dog wagging its tail."
Chu said the spiritual leader of the TSU, former president Lee Teng-hui (李登輝), was once a CCP member and that it was President Chen Shui-bian (陳水扁) who sold out Taiwan.
Chu then engaged in a shoving match with DPP Legislator Kao Chien-chih (高建智) when Kao tried to stop her from interrupting Huang.
Amid the ruckus, Chang sprinted to the podium, seized the microphone and began chanting: "Disloyalty and injustice, disdain and reject him," referring to Jao.
When it was Kao's turn to talk, however, Non-Partisan Solidarity Union Legislator Tsai Hau (蔡豪) tried to pull away the microphone and requested the meeting's chairwoman, DPP Legislator Chang Ching-hui (張慶惠), immediately stop allowing other members to talk and put the motion to adjourn to a vote.
The vote was called when opponents and proponents staged a protest on the floor.
Comments will be moderated. Keep comments relevant to the article. Remarks containing abusive and obscene language, personal attacks of any kind or promotion will be removed and the user banned. Final decision will be at the discretion of the Taipei Times.